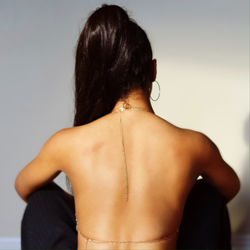 "You either love me fully forever or not at all." - Mackk
DALLAS (PRWEB) August 14, 2020
"If you tell me that you want this forever, I just might let you in,"
The Texas-based, R&B-influenced producer and songwriter, Mackk, begins her debut single and brand new coinciding animated music video with a lyric that illustrates a request that's hanging on the thread of possible vulnerability. "But if we fool around then soon we'll be naked, and you know how that will end," she continues. On the surface, Mackk is addressing a hot-and-cold, indecisive lover, but beneath the shiny lyrical content, Mackk may be addressing herself.
Intertwined with the extensive range of floaty melodies and lush production, she walks a thin rope between establishing boundaries and being uncertain herself. "Go, get on…" shouts the hook, inviting the listener to automatically want to sing along as it could be the anthem for all who suffer in silence and broken hearts. The song paints the vivid yet pleading picture of a relationship where you to lay down your expectations with someone on the table, but notice they may be unable to give that to you – bubbling over into the building of thick emotional walls.
The sonic soundscape of the song implies the creation of those emotional walls with its larger than life, big wall of sound energy. Bragging booming hip hop drums and low end, and a sheen, opulent top end, the track takes the listener through the intricate journey of valuing not only your hopes, but also your fears. The introduction of the electric guitars give the song a vintage texture and a timeless feeling, alluding to the prosody of forever. The production takes you into a glimpse of a shimmering reverie, where you can't help but visualize the world through rose colored glasses. Though by the time of the song's ending, the glasses have come off, bringing a bittersweet taste of clarity and longing.
'You either love me fully forever or not at all,' Mackk self-proclaims as the essence of the record, though the song itself proposes the idea of needing forever, but realizing that forever may only be a fantasy.
Mackk, has come onto the music scene as a genre-bending songwriter and producer from to feature her introductory song titled "Forever." Originating from Texas with her smooth, fluttery, and breathy vocals, Mackk brings you her own alternative style of vulnerable and buttery, yet striking R&B and lyrics that resonate with broken and mended souls everywhere. With a style that brags a sheening pop top and hip hop bottom, Mackk is a musical force charging in with the likes of other Texas-based artists such as, Erykah Badu, Beyoncé, and Leon Bridges, and other alternative powerhouses such as Frank Ocean, FKA Twigs, and BANKS. Her personal lyrics connect nature, vivid colors, and creative objects to attachment and intimacy, and creates a soothing vibe that expresses her overall mantra that, "there's growth in vulnerability." Mackk is inspired to be an imaginary friend to her listeners, acting as a bridge between conversations about the depths of love and emotional experiences, emanating a soft space for people looking to get away from a hard world. "Forever" comes in smoothly and goes out smoother with a strong finish, posing the questions: What does forever mean to you? Do you consider forever an attainable feat or just an illusory image of happiness? The artist, Mackk, seems to have a bright future in music and will continue to rise as she shoots toward the stars and floats around the idea of forever.