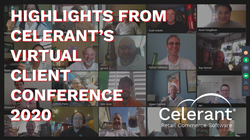 "The conference was a great opportunity to help our retail clients that recently shifted to online sales. Even though we weren't on the River Walk in Texas, it was important to us, as a company, to continue supporting our retail clients especially at a time when they need it most."
STATEN ISLAND, N.Y. (PRWEB) May 13, 2020
Celerant Technology, a leading provider of innovative retail solutions, concluded its first ever virtual client conference with close to 200 retailers in attendance; and it was a complete success. Back in mid- March, when other conferences across the U.S. began getting canceled, Celerant quickly shifted focus by turning its annual client conference into a virtual event. By hosting a virtual event with new COVID-19-related topics, and waiving the registration fee, Celerant was able to continue supporting its retail clients, and help them during these difficult times.
"This was our first ever virtual client conference, and we had such a good turnout," stated Michele Salerno, Director of Marketing. "The conference was a great opportunity to help our retail clients that recently shifted to online sales; and help any client currently experiencing downtime prepare to make their business stronger before they return. Even though we weren't on the River Walk in Texas, it was important to us, as a company, to continue supporting our retail clients especially at a time when they need it most."
Recap – Celerant's 2020 virtual conference
Celerant's 2020 client conference, originally slated to take place April 26-28 in San Antonio at Hotel Contessa, was made available to clients as an online event during the same week as the originally-planned physical conference. To help retail clients through COVID-19 and beyond, Celerant waived the registration fee, and added many new topics, such as 'Switching to Online Sales', 'Curbside Pickup' and 'Planning for Recovery in the Year of Coronavirus'. In less than 1 month, Celerant put together a two-day virtual conference with over 55 breakout sessions and interactive workshops, 2 keynotes, 9 virtual partner booths, virtual raffles and more. This year's partner sponsors included: Global Payments, SPS Commerce, Avalara, Worldpay, NASGW, Elo Touch Solutions, Management One, Shift4 Payments, Star Micronics and RSR Group. Celerant's 2020 client conference wrapped up with a fun 'Virtual Happy Hour'.
"We thank our staff and partners for coming together so quickly to make this a great event. Kudos to Avalara for not just offering an awesome raffle to our retail clients, but also a generous raffle gift going to the charity of the winner's choice," stated Salerno.
Video recap: Click the link below to watch a recap video of Celerant's 2020 Virtual Client Conference. Clients that missed the conference can fill out the form to request access to the 55+ recorded sessions– https://www.celerant.com/client-conference-2020-recap/.
"To ensure the event ran smoothly, it was important to use the right technology, and communicate regularly with everyone involved- partners, staff and retail clients," said Kevin Pangilinan, Event Coordinator. "Over 200 people attended, and not a single glitch!"
What attendees are saying…
"Due to travel restraints caused by COVID-19, we weren't planning on attending. When Celerant announced it's a virtual conference, several of our employees decided to sign up. The event was quite effective. We look forward to attending again next year!" - Kelley Powers, Owner of Final Flight Outfitters
"I want to send a big thanks to everybody at Celerant for throwing an amazing conference. I didn't think Celerant could pull it off virtually, but they did. It really felt as if we were together with them." - Justin Card, Compliance Manager of Triangle Shooting Academy
"The event website was easy to navigate through; I could easily find my sessions and engage with staff and partners. Overall, I had a great time, and glad I was able to attend with the event being virtual." - Kevin Bouckaert, IT Manager of Alpine Shop LTD
"We are grateful that you guys were still able to hold this conference. We had about 10 people from our company attend. It was a great opportunity for some of our front-line staff and managers get face-to-face (or screen-to-screen) time. We are already looking at our notes and figuring out what we will implement." - Mitchell Tyler, Co-Owner/VP of SafeSide Tactical
About Celerant Technology
Founded in 1999, Celerant provides innovative, multi-channel retail commerce solutions and expert consulting to mid-market retailers across all industries. Celerant is ranked as the #1 retail software provider, and has been recognized as a top-five vendor for the past eleven consecutive years on the RIS Software LeaderBoard. Celerant supports retailers through point of sale, inventory management, eCommerce, vendor integrations and 'endless aisle', marketplace integrations, CRM and shopper incentives, ERP, email marketing and more. To learn more, subscribe to our blog- http://www.celerant.com/blog.