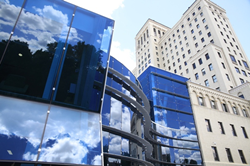 "With this incredible new center of cancer innovation and learning...this network has created an outstanding cancer program with resources and capabilities that are now on par with the nation's very best."David Bartlett, MD, Chair, AHN Cancer Institute
PITTSBURGH (PRWEB) July 27, 2020
State-of-the-art, $78 Million Facility is Network's Hub for Leading-Edge Cancer Research and Treatment
Highmark Health and Allegheny Health Network (AHN) today cut the ribbon to a new a 90,000-square-foot, $78 million state-of-the-art cancer center at Allegheny General Hospital (AGH) that will provide patients with access to leading-edge cancer treatments, while serving as the nucleus of cancer research, clinical trials and medical education for the AHN Cancer Institute.
The new AGH cancer center is the centerpiece of Highmark Health's and AHN's more than $300 million investment to expand and enhance access to high-quality, innovative cancer care across the greater western Pennsylvania region. Over the past year and a half, AHN has opened new comprehensive community cancer centers in Monroeville, Erie, Butler, Beaver and Westmoreland Counties. The Network has also renovated and expanded its cancer facilities in Robinson Township and at West Penn Hospital.
"About one in every two Pennsylvanians will be diagnosed with cancer during his or her lifetime. We believe that our investment in AHN Cancer Institute's capabilities and capacity will greatly improve the experience and outcomes of those who are diagnosed with this disease," said David Holmberg, President and CEO, Highmark Health. "Our new flagship facility at AGH will be a beacon of hope for patients and their families, and a destination for the best and brightest oncology professionals who want to be part of the world-class program we have established."
According to the American Cancer Society, approximately 1.8 million new cancer cases – including 80,000 in Pennsylvania alone - are expected to be diagnosed in 2020, a two percent increase from 2015. In addition, the number of cancer survivors nationwide is expected to grow from 17 million today to 22 million in 2030. Pennsylvania alone is home to about 771,000 cancer survivors.
"At AHN, our goal is to make advanced, high-quality cancer care accessible close to home in all of the communities we serve throughout western Pennsylvania, keeping patients at the center of everything we do," said Cynthia Hundorfean, President and CEO of AHN. "Today, we celebrate yet another significant milestone in the fulfillment of that promise with the opening of this beautiful new facility that was designed for and inspired by our caregivers and our patients."
The opening of the AGH cancer center comes just two months after David Bartlett, MD, an internationally recognized cancer surgeon and researcher, assumed his new role as Chair of AHN's Cancer Institute. Dr. Bartlett succeeds David Parda, MD, a leading radiation oncologist who oversaw the network's cancer program for almost two decades and who has played a critical role in the Cancer Institute's remarkable transformation over the past two years. Dr. Parda now serves as President of AGH.
"Since becoming part of AHN earlier this year, I've been extremely impressed not only with the depth and breadth of cancer expertise and leadership that exists within this organization, but with the absolute commitment of everyone, at every level, to doing what's best for patients," Dr. Bartlett said. "With this incredible new center of cancer innovation and learning at AGH and all of the other new cancer facilities AHN has opened in recent years, this network has created an outstanding cancer program with resources and capabilities that are now on par with the nation's very best."
The new cancer center at AGH will provide a complete spectrum of advanced clinical and support services for cancer patients, including:

state-of-the-art radiation oncology capabilities, such as the latest generation Gamma Knife for treatment of brain cancer and other complex neurological conditions, and one of the first MRI linear accelerators in the United States, for treating solid tumors with high precision radiotherapy.
one of the world's first Gamma Pod systems, a groundbreaking, high precision technology designed specifically for the treatment of breast cancer. The system delivers highly precise, high dose radiation to breast tumors, significantly reducing treatment time and toxicity.
48 comfortable infusion bays for chemotherapy another therapies, and 42 patient exam rooms with telemedicine capabilities
personal navigators to guide every patient's experience at the center
a conference suite for academic, scientific and clinical team collaborations
a positive image salon for women undergoing cancer treatment
nutritional counseling, social services and financial counseling
valet parking and comfortable accommodations for family members and loved ones
The AGH cancer center will also serve as the hub of AHN's clinical, academic and cancer research collaborations with the Sidney Kimmel Comprehensive Cancer Center at Johns Hopkins.
Located on East North Avenue, the cancer center is situated between AGH's historic South Tower and its Sandusky Street parking garage. The façade of the four story structure features blue faceted glass with a three story atrium that preserves the South Tower's features and connects the cancer center to the hospital's Magovern Conference Center.
A sculptural representation of the DNA helix, made of steel, aluminum and hand-blown glass, and weighing more than 1,000 pounds, dramatically descends from the three story ceiling of the cancer center's lobby. The sculpture was developed by AHN Cancer Institute representatives and Pittsburgh-based Iontank, a specialized design studio that creates unique interactive installations. Using a kiosk, patients and cancer center visitors will be able to create animations that can be added to the rotation of content on the sculpture over time.
AHN officials also today confirmed the planned September 2020 opening of a state-of-the-art Clinical Genomics Facility that will complement the new cancer center's clinical and research capabilities. The $8.5 million facility will be located in the hospital's Federal Street medical building and provide comprehensive in-house genomic sequencing for AHN Cancer Institute patients, promoting the study, pioneering and delivery of advanced molecular and biological therapies based on a patient's specific tumor genetic profile.
About Allegheny Health Network – and the AHN Cancer Institute
Allegheny Health Network, a Highmark Health Company, is a western Pennsylvania-based integrated healthcare system that serves patients from across a five-state region that includes western Pennsylvania and the adjacent regions of Ohio, West Virginia, Maryland, and New York. The Network's Cancer Institute employs more than 200 physicians and 500 oncology professionals who provide a complete spectrum of oncology care at 24 affiliated oncology clinics, including access to state-of-the-art technologies and new therapies being explored in hundreds of clinical cancer trials. The Cancer Institute has the only cancer program in the Pittsburgh region accredited as an Integrated Network Cancer Program by the American College of Surgeons Commission on Cancer, and its radiation oncology program is the largest in the country accredited by the American Society for Radiation Oncology. AHN Cancer Institute is a Quality Oncology Practice Initiative certified practice, and is accredited by the Foundation for Accreditation of Cellular Therapy, National Accreditation Program for Breast Centers, and National Accreditation Program for Rectal Cancer. AHN also has a formal affiliation with the Sidney Kimmel Comprehensive Cancer Center at Johns Hopkins, one of the nation's 41 comprehensive cancer centers designated by the National Cancer Institute, for research, medical education and clinical services.