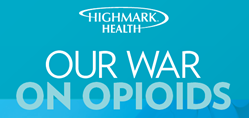 "We are committed to serving our members and the community throughout this evolving public health crisis—including through expanded education and outreach initiatives that combat stigma and re-frame opioid dependence as a chronic disease, rather than a moral failing."
PITTSBURGH (PRWEB) April 16, 2019
Highmark Health continues to make progress in addressing opioid abuse and addiction, responding to its members' and patients' needs with a comprehensive approach that emphasizes primary prevention, safe prescribing, high-quality and accessible addiction treatment, and community supports. Through these efforts, Highmark Health has helped to lower the use and duration of use of opioids, and strengthened services available to individuals and families confronted by drug dependence.
During the 2018 calendar year, Highmark lowered overall opioid prescription fills by 15 percent for commercially-insured members in Pennsylvania, and 23 percent in West Virginia. Ninety percent of Highmark's commercially-insured members who were prescribed opioid-based medications for the first time received a week's supply or less of medication.
Allegheny Health Network (AHN), a Highmark Health organization, also announced today two major new initiatives which aim to further curb the opioid epidemic in western Pennsylvania. The network has received a $5 million federal grant from the Substance Abuse and Mental Health Services Administration (SAMHSA) that will support the implementation and evaluation of enhanced substance use screening and intervention services in the primary care setting. Additionally, AHN and Gateway Health have partnered to launch an Enhanced Pain Management Program which takes a novel, holistic approach to treating a patient's pain without opioids. The first such clinic has opened at the AHN Institute for Pain Medicine near West Penn Hospital, with more locations being planned.
Highmark Health also recognizes the critical role that reducing stigma associated with opioid use disorder plays in helping people access treatment, return to their family lives and the workforce, and make a successful long-term recovery. In the spring of 2019, Highmark surveyed adult community members in each of its core health insurance markets in Pennsylvania, West Virginia and Delaware to understand the public's attitudes toward and experiences with opioid dependence. The surveys yielded a statistically valid sample and were weighted to be generally reflective of each region's age and gender demographics.
In the Pittsburgh designated market area, nearly three out of every four people (73 percent) said that there is a problem with opioid overuse in their community, and eight out of ten (81 percent) believe that the health care industry should more closely monitor opioid prescriptions.
About one in three people (34 percent) indicated that they have a friend, family member, or close acquaintance who has suffered from opioid addiction or dependence. Among those who have had someone close to them suffer, about three in four (72 percent) said that they did not know about the person's opioid use before the person developed an addiction or dependence. Fewer than half (48 percent) said that the person suffering had sought treatment.
Nearly nine in ten people surveyed in Pittsburgh (86 percent) believe that opioid addiction or dependence is mostly or somewhat the fault of the person using opioids.
"So many people across the country, and particularly in the regions that we serve, have been affected in some way by the opioid crisis," said Deborah Rice-Johnson, president, Highmark Inc. "In response, we launched a 'war on opioids' in 2018 to address this urgent problem through new programs, policy changes and partnerships that span across the Highmark Health enterprise and extend into the community. We are pleased with the initiative's early progress. But we recognize that this war will not be won easily, and that doing so will require a spirit of collaboration. We are committed to serving our members and the community throughout this evolving public health crisis—including through expanded education and outreach initiatives that combat stigma and re-frame opioid dependence as a chronic disease, rather than a moral failing."
Highmark's core health insurance markets have been hit especially hard by the opioid epidemic. Delaware has the nation's third-highest rate of diagnosed opioid use disorder among patients who are insured by members of the Blue Cross Blue Shield Association (BCBSA), while West Virginia ranks fourth and Pennsylvania ranks 15th. The prevalence of opioid use disorder among Highmark's commercially insured members as of January 2019 is about seven per 1,000 people. The average for the BCBSA is 5.9 per 1,000 people.
Highmark Health has implemented a three-pronged, progressively intensive strategy to address the opioid crisis. The first component focuses on prevention by offering effective, non-pharmaceutical pain management therapies at the site of care. This ensures that members who can manage their pain without opioids never receive them in the first place. Physical therapy, occupational therapy and chiropractic services are covered for Highmark's fully- insured members, and more than 40,000 practitioners offer discounts to members on alternative treatments such as massages, yoga, acupuncture and homeopathy. Highmark also provides cognitive behavioral therapy through psychologists as adjunctive therapy for pain.
The second component of Highmark Health's strategy emphasizes safe opioid utilization through new evidence-based medication policies, as well as ongoing monitoring and educational efforts for both members and prescribers.
In March of 2018, Highmark implemented a new policy for its commercial members who are prescribed opioid-based medications for the first time. The policy, which is designed to enhance safety, limits members in Highmark's core health insurance markets to a seven-day supply of medication. The policy follows the CDC's safe prescribing guidelines, which recognize the increased risk of dependence for individuals who use opioid-based medications for an extended period of time.
In addition to the new prescription policy, Highmark uses a data-driven approach to monitor members' prescribing patterns and identify potentially unsafe use of opioids and other controlled substances.
"Our focus on primary prevention and safe opioid prescribing empowers patients and providers to have meaningful conversations about pain management," said Dr. Charles DeShazer, SVP, Chief Medical Officer, Highmark Inc. "Our goal is for members to partner with providers to identify the most effective, lowest-risk treatment methods that fit their particular pain management needs."
The third component of Highmark Health's strategy focuses on linking members and patients who have opioid use disorder with high-quality, accessible treatment programs that mitigate short-term risk and promote long-term recovery.
A number of such programs and services have been implemented at AHN in recent years, including the Center of Excellence for Opioid Use Disorder (part of the AHN Center for Inclusion Health), the Perinatal Hope program for addicted mothers, a medical respite program for the unstably housed population with substance-related illnesses, and more.
Last fall, AHN announced its partnership with Allegheny County, Highmark Health and Gateway Health to open a 45-bed unit at the Kane Community Living Center in McKeesport. The post-acute unit, which opened in November 2018, is for patients with medical conditions and co-occurring substance use disorders.
"Every day at AHN, we care for many patients who are living with substance use disorder and are in need of the right services that will help them begin their healing journey," said Mitchell West, DO, Director, AHN Addiction Medicine. "Our mission is to provide each and every one with high-quality, compassionate medical care and direction to whatever resources they may need to aid and support their recovery over the long term."
Additionally, in 2017 and 2018, Highmark and the Highmark Foundation collectively gave nearly $1 million toward community organizations and programs fighting the opioid epidemic in Pennsylvania, West Virginia, and Delaware. These grants and sponsorships support front line efforts including filling an emergency need for naloxone, community-based drug prevention and addiction treatment plans, and rehabilitation and treatment facilities.
Recognizing the impact of the opioid epidemic's impact on families, the Highmark Caring Place has contributed emotional support to children, teens and families who are suffering from the loss of a loved one due to opioids. The Highmark Caring Place provides free support at four locations in Pennsylvania. Since the beginning of 2014, more than 350 families have contacted the Highmark Caring Place because a loved one has died from an overdose.
About Highmark Health
Highmark Health, a Pittsburgh, PA-based company, that, together with its subsidiaries and affiliates collectively employ more than 40,000 people and serve millions of Americans across the country, is the second largest integrated health care delivery and financing network in the nation based on revenue. Highmark Health is the parent company of Highmark Inc., Allegheny Health Network, and HM Health Solutions. Highmark Inc. and its subsidiaries and affiliates provide health insurance to nearly 5 million members in Pennsylvania, West Virginia, and Delaware as well as dental insurance, vision care and related health products through a national network of diversified businesses that include United Concordia Companies, HM Insurance Group, and Visionworks. Allegheny Health Network is the parent company of an integrated delivery network that includes eight hospitals, more than 2,400 affiliated physicians, ambulatory surgery centers, an employed physician organization, home and community-based health services, a research institute, a group purchasing organization, and health and wellness pavilions in western Pennsylvania. HM Health Solutions focuses on meeting the information technology platform and other business needs of the Highmark Health enterprise as well as unaffiliated health insurance plans by providing proven business processes, expert knowledge and integrated cloud-based platforms. To learn more, please visit http://www.highmarkhealth.org.