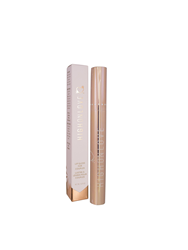 MONTREAL (PRWEB) November 12, 2019
HighonLove™, the award-winning cannabis seed oil infused wellness brand has announced the launch of its new collection of products as a part of the company's efforts to empower women to explore and embrace their sensual sides.
HighOnLove's latest addition for the holiday season is the HighOnLove Lip Gloss for Couples. By combining sexy and pleasure, HighOnLove's lip gloss was designed to plump and hydrate the lips making it feel irresistibly kissable while enhancing foreplay by increasing sensitivity and exciting the intimate areas.
HighOnLove looks to provide and perfect every intimate experience with premium grade ingredients, beautiful packaging and superior design. Using premier grade cannabis seed oil and nutrient-rich ingredients from the highest quality international suppliers, HighOnLove is a wellness brand in a category all its own.
Founder of HighOnLove, Angela Mustone has traveled extensively across the globe to test ingredients for her groundbreaking product line. Influenced by the world's premium cosmeticians, these skin-friendly formulas provide revolutionary intimate experiences and a level of smoothness only cannabis seed oil can provide.
Today, her vision for HighOnLove is to break down existing barriers between lovers and deliver the ultimate experience through cannabis seed oil infused sexual wellness products.
About HighOnLove
HighOnLove products are gynecologically tested, chemical-free, vegan, and cruelty free. Made in Canada with premium, 100% natural ingredients, HighOnLove products are free of parabens, allergens or colorants. HighOnLove products are available on http://www.highonlove.store and ranges from $28 - $50 for their product lines.
EDITOR'S NOTE: For more information about HighOnLove, please contact Nancy Trent or Pam Wadler at (212) 966-0024.