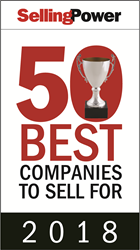 Sales enablement is more than just our product offering—it's at the heart of everything we do.
SEATTLE (PRWEB) August 07, 2018
Highspot®, powering modern businesses with the industry's highest-rated sales enablement platform, has ranked on the Selling Power 50 Best Companies to Sell For list. This is the 18th consecutive year the list has appeared in Selling Power. Google, Microsoft and Paylocity are among the other companies recognized.
"Sales enablement is more than just our product offering—it's at the heart of everything we do," said Matt Weil, Vice President of Sales at Highspot. "It is an honor to be the only sales enablement provider recognized for the work we put into preparing our sellers, cultivating talent and building the positive, dynamic culture that helps us drive outstanding results."
Highspot leverages the power of their own sales enablement software across all teams to acquire new business. Equipped with patented AI technology, guided sales experiences, more than 50 certified technology integrations and award-winning content management capabilities, the Highspot team was enabled to increase total customer count by more than 250 percent over the past 12 months.
Each year, the corporate research team at Selling Power magazine assembles and publishes the list. To gather data, the Selling Power research team issued a comprehensive application to evaluate the companies on the list, with detailed sections covering these categories:
1) Compensation and benefits
2) Sales-rep onboarding and sales enablement
3) Sales training and coaching
4) Sales culture
The list encompasses companies of all sizes—with sales forces ranging from fewer than 100 salespeople to companies with sales-force numbers in the thousands.
Selling Power magazine founder and publisher Gerhard Gschwandtner says it is vital to recognize companies that are creating excellent sales teams today.
"The companies on this year's list represent the future of selling," says Gschwandtner. "We are living in the age of sales enablement. To win at an elite level, salespeople need the support of excellent sales training, the right technology, and great sales coaching. The 50 Best Companies to Sell For have made the right investments, culturally and financially, to make sure their salespeople have every advantage as they compete to win deals and generate more revenue."
The full list can be viewed here.
About Highspot
Highspot gives businesses a powerful sales advantage to engage in more relevant buyer conversations and achieve their revenue goals. Through AI-powered search, analytics, in-context training, guided selling, and 50+ technology integrations, the Highspot platform delivers enterprise-ready sales enablement in a modern design that sales reps and marketers love. Using Highspot, sales teams can quickly find the best-performing content and customize it for each opportunity—while marketers gain insights on content use and effectiveness to develop a data-driven strategy. With 90 percent average monthly recurring usage and global support in 125 countries, Highspot is the most trusted solution for sales enablement. Learn how Highspot helps businesses modernize their sales and marketing at: http://www.highspot.com.
About Selling Power
In addition to Selling Power magazine, the leading periodical for sales managers and sales VPs since 1981, Personal Selling Power, Inc. produces the Sales Management Digest and Daily Boost of Positivity email newsletters, as well as a series of five-minute videos featuring interviews with top executives. Selling Power is a regular media sponsor of the Sales 3.0 Conference.