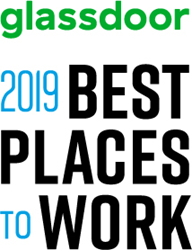 From Highspot's beginning, we have focused on building a team of people who believe in creative collaboration, breaking boundaries and delighting customers.
SEATTLE (PRWEB) December 05, 2018
Highspot, the modern sales enablement solution that sales reps love, today announced that it has been honored with a Glassdoor Employees' Choice Award, recognizing the Best Places to Work in 2019.
The Employees' Choice Awards program, now in its 11th year, is based solely on the input of employees, who elect to provide feedback on their jobs, work environments and companies on Glassdoor, one of the world's largest job and recruiting sites. The final list is compiled using Glassdoor's proprietary algorithm, led by its Economic Research Team, and takes into account the quantity, quality and consistency of reviews.
"Great workplaces begin with great people," said Robert Wahbe, Highspot co-founder and CEO. "From Highspot's beginning, we have focused on building a team of people who believe in creative collaboration, breaking boundaries and delighting customers. Our continued hyper-growth will be driven by the amazing talent we attract."
Ninety-nine percent of Highspot employees would recommend Highspot to a colleague, according to Glassdoor. In addition to being honored by numerous organizations as the industry's best sales enablement platform, Highspot has earned national recognition as a top workplace. In 2018 alone, Highspot has received the following awards:

LinkedIn's Top 50 Startups in the U.S.
Seattle Business Magazine's Washington's 100 Best Companies to Work For
Selling Power's 50 Best Companies to Sell For
"To help people find the best jobs and the best companies, the Glassdoor Employees' Choice Awards recognize employers at the top of their game," said Dr. Andrew Chamberlain, Glassdoor Chief Economist. "Glassdoor Best Places to Work winners are strategically investing in company culture, career growth opportunities and more, which also serves as a major recruiting advantage."
Highspot employees cite in their Glassdoor reviews that it is a combination of the creative culture, transparent leadership, benefits, innovative product and top industry talent that makes the company a world-class workplace. Reviewers commonly regard Highspot as the best company they have worked for, listing reasons such as: "the quality of the people is off-the-charts," "incredible opportunities to progress in your career," "we have a comradery on the team that's unlike any I've ever seen in another company," "ideas from all levels are valued," "you can really feel the impact from the work you put in" and "the Highspot platform is second to none, which makes it extremely easy to be proud of the work that we do."
Over the last 12 months, Highspot has doubled in employee count. The company raised $35 million in September to fuel U.S. and international market expansion.
To learn more about working at Highspot and explore open roles, please visit: https://www.highspot.com/careers/.
About Highspot
Highspot gives businesses a powerful sales advantage to engage in more relevant buyer conversations and achieve their revenue goals. Through AI-powered search, analytics, in-context training, guided selling, and 50+ technology integrations, the Highspot platform delivers enterprise-ready sales enablement in a modern design that sales reps and marketers love. With 90 percent average monthly recurring usage and global support in 125 countries, Highspot is the most trusted solution for sales enablement.
About Glassdoor
Glassdoor combines all the latest jobs with millions of reviews and insights to make it easy for people to find a job that is uniquely right for them. As a result, Glassdoor helps employers hire truly informed candidates at scale through effective recruiting solutions like job advertising and employer branding products. Launched in 2008, Glassdoor now has reviews and insights for over 830,000 companies located in more than 190 countries. For more information, visit glassdoor.com. Glassdoor® is a registered trademark of Glassdoor, Inc.