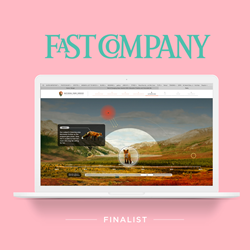 "Digital and online learning are essential tools for learners of all ages. Now more than ever, we need to innovate new ways to share information with a wide variety of audiences." - Gregor Clark, Principal and Founder of Hiker
NEW YORK (PRWEB) May 14, 2020
Sounding Board - a digital collaboration between Penn State, the National Parks Service Natural Sounds and Night Skies Division, and creative agency Hiker- was recognized as a finalist in Fast Company's 2020 World Changing Ideas Award for Education. The interactive online learning hub was created to educate users on the value of natural soundscapes and how to protect them.
Protecting natural sounds, and mitigating manmade sounds, is one of the many responsibilities of NPS Managers. Creative agency Hiker worked with the National Parks Service and faculty from Penn State University to develop Sounding Board as an online learning resource to help educate students on the power of sound as a natural resource, how sound works, and how to protect it. The tool provides information related to the science and management of sounds in parks and protected areas. As users move through the interactive curriculum, they learn about emerging research from a multitude of disciplines that detail the profound impacts that sounds have on ecological and human well-being.
Now in its fourth year, the World Changing Ideas Awards honor businesses, policies, projects, and concepts that are actively engaged and deeply committed to flattening the curve when it comes to the climate crisis, social injustice, or economic inequality. A panel of eminent judges selected winners and finalists from a pool of more than 3,000 entries across transportation, education, food, politics, technology, and more.
With a focus on distance learning and conservation, Sounding Board is uniquely positioned. Designed to provide valuable information and best practices for park management across the nation, Sounding Board is a powerful resource for those interested in natural sounds and conservation.
"Digital and online learning are essential tools for learners of all ages. Now more than ever, we need to innovate new ways to share information with a wide variety of audiences," says Gregor Clark, Principal and Founder of Hiker.
"Our research shows that the ability to experience natural sounds like wind, water and birdsongs are some of the most important motivations for visitors to national parks," says Peter Newman, Professor and Head of the Department of Recreation, Park and Tourism Management at Penn State. "Hiker helped us to tell the story behind the science in Sounding Board."
"There seems no better time to recognize organizations that are using their ingenuity, resources, and, in some cases, their scale to tackle society's biggest problems," says Stephanie Mehta, editor-in-chief of Fast Company. "Our journalists, under the leadership of senior editor Morgan Clendaniel, have uncovered some of the smartest and most inspiring projects of the year."
About Hiker: Hiker is an Emmy, Telly, and Webby-award winning creative agency based in NYC. Located at the intersection of animation, interactive design, live action, and digital innovation, Hiker creates content across many disciplines to help non-profit, agency, and brand marketers stand out, deepen engagement, and unlock their potential for authentic and compelling digital storytelling. Hiker's commitment to social justice and education has spanned a range of engagements with clients including University of Pittsburgh, UCSC's Center for Public Philosophy, The New School, and education non-profit Aurora Institute. Most recently, Hiker helped launch brand newsrooms for clients including Under Armour and RE/MAX.
About the World Changing Ideas Awards: World Changing Ideas is one of Fast Company's major annual awards programs and is focused on social good, seeking to elevate finished products and brave concepts that make the world better. A panel of judges from across sectors choose winners, finalists, and honorable mentions based on feasibility and the potential for impact. With a goal of awarding ingenuity and fostering innovation, Fast Company draws attention to ideas with great potential and helps them expand their reach to inspire more people to start working on solving the problems that affect us all.