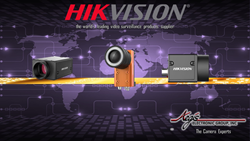 Gilbert, Arizona (PRWEB) October 04, 2017
Aegis Electronic Group, Inc. is proud to announce their partnership with Hikvision USA. The collaboration guarantees Aegis customers access to some of the world's most innovative Fixed Lenses, GigE, Line Scan, and USB 3.0 Cameras. Hikvision's products and solutions have been widely deployed in a number of vertical markets and in notable facilities around the world including the Beijing Olympic Stadium, Shanghai Expo, Philadelphia Safe Communities in the U.S., South Korea Seoul Safe City, Brazil World Cup Stadium, the Italy Linate Airport, and many others (Hikvision, 2016). In 2016, research group IHSMarkit ranked Hikvision the No.1 market share leader globally for video surveillance equipment, for the sixth year in a row. Additionally, Hikvision offers industrial camera products; applied in metal processing, industrial automation, logistics, machine vision, and other industrial imaging fields.
At Aegis, we pride ourselves on simple integration of new imaging equipment. Hikvision provides the cameras and accessories to make system integration/upgrading compatible with any system. Furthermore, Aegis Electronic Group, Inc.'s years of industry knowledge, allow for anyone and everyone to obtain and use Hikvision's machine vision products. If you have any questions in regard to Hikvision cameras, please do not hesitate to contact us.