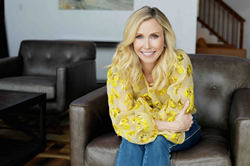 I realized after a year like 2020, so many of my clients in The ReLaunch Co. courses and coaching were feeling overwhelmed. What everyone wants and needs in 2021 is to own their power in possibilities.
SAN FRANCISCO (PRWEB) December 23, 2020
The Fired Up Entrepreneur
Hilary DeCesare, award winning entrepreneur, host of The Silver Lined ReLaunch and featured on many major networks including ABC's The Secret Millionaire just launched the much awaited 6 month business program The Fired Up Entrepreneur from The ReLaunch Co. The business program helps female entrepreneurs looking to launch or relaunch their business in 2021 take the right steps, in the right order, towards lasting business success.
The program stands out because it not only takes away the confusion and overwhelm on where to start, and how to start, but outlines what actually works or is not working for female entrepreneurs in the changed business landscape. It's ideal for those that have a well formed business idea, or are tired of the one win here and there approach or handful of fast fails that's keeping their already existing business small. DeCesare specializes in launching or relaunching businesses by giving the proven foundational elements and steps needed when navigating the start to finish of building a business according to her Make, Grow, Keep Method.
Now Is the Time for Business Success
DeCesare firmly believes "Now is your time", and partners with women that are ready to go all in and hit the reset button. This starts with covering the 6 main pillars in her program: Clarity, mindset, time management, marketing, sales, and leadership. She saw a need to quiet the white noise in the business space that seemed to only cater to those that wanted to tell how, and created the program to show how to give any female entrepreneur the fast-pass to launching and relaunching a business saving them time, energy, and wasted money.
The ReLaunch Co. takes away the overwhelm and gives the simple A-Z steps to women entrepreneurs bridging the heart to the head to one's higher self, so that not only can they have success in their business, but also have a lifestyle filled with possibilities inside the acclaimed new program The Fired Up Entrepreneur.