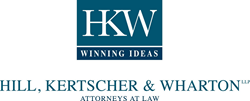 I'm proud of the work our team has done and the successful results we have obtained in IPR trials on behalf of our clients.
ATLANTA (PRWEB) October 26, 2018
Powerhouse intellectual property law firm, Hill, Kertscher & Wharton, LLP, has been recognized in the leading report of Inter Partes Review (IPR) litigation published by Patexia. The comprehensive IPR Intelligence Report collects and analyzes information about this special form of patent litigation authorized by the America Invents Act (2011), and reviewed data from 7,700 cases, 4,700 patents, and 1,100 law firms across the United States over a five-year period.
Hill, Kertscher & Wharton, LLP earned the 16th place nationally in IPR performance on behalf of petitioners based on its successes in persuading the Patent Office to declare previously issued patents invalid . It also places the firm in the top 1% of all law firms engaged in IPR litigation in the United States and second among Georgia-based law firms.
Co-founding partner, Steve Hill, reflected on the significance of his firm's ranking in the IPR Intelligence Report, while attributing his team's success in this area to a steadfast commitment to client goals. "IPR litigation is not something law firms can commit to halfway and see any amount of success," said Hill. "Both the underlying subject matter and procedural aspects in these cases are complex, and it takes an exceptional amount of dedication to thrive in this area of the law. I'm proud of the work our team has done and the successful results we have obtained in IPR trials on behalf of our clients."
In addition to providing an exceptional review of the prominent players in the IPR litigation field, Patexia's report further supports the fact that this relatively new proceeding and its role in modern patent litigation continues to grow in importance. According to the report, since its inception in September 2012, IPR activity has been rising almost every year, with a total of 8,196 cases filed through end of Q2 of 2018.
HKW's IPR Practice Group Leader, Vivek Ganti, believes his law firm is well-positioned for patent litigation in the future, thanks in part to the firm's capabilities in IPR trials. "We expect to continue to lead the way in IPR trial work, and because of our ever-growing expertise and efficiency in this field, I'm confident our clients will realize even greater value from our team's work and dedication in future patent litigation."
Earlier this year, Hill, Kertscher & Wharton was recognized for the third year in a row as one of the "go-to" firms for U.S. patent litigation by Intellectual Asset Magazine's publication of the IAM Patent 1000, a review of the top patent legal professionals in the world. The publication also named partners Hill and John North as two of the top 1000 patent lawyers in the world.
About Hill, Kertscher & Wharton, LLP: Internationally recognized for its work on behalf of businesses and individuals, the AV Rated law firm of Hill, Kertscher & Wharton, LLP provides top tier legal representation in business litigation, intellectual property, corporate law, and employment matters. The firm's unique size and roster of experienced attorneys routinely produce successful outcomes in the most challenging legal matters while maintaining an exceptionally high level of client service.