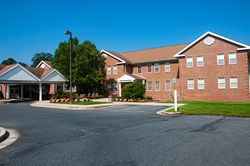 We are extremely proud of this recognition of Hillhaven earning a position on U.S. News & World Report's 2019-20 Best Nursing Homes list.
BETHESDA, Md. (PRWEB) November 04, 2019
Meridian Senior Living is thrilled to announce that its community Hillhaven Assisted Living, Nursing and Rehabilitation Center (Hillhaven) in Adelphi, MD was named one of the nation's "Best Nursing Homes" by U.S. News & World Report (U.S. News) for 2019-20. U.S. News, the global authority in health care rankings, evaluated more than 15,000 nursing facilities across the nation including every state and over 100 major metropolitan areas. There were 2,969 nursing homes nationwide of which 19 are located in Maryland that earned the designation of a U.S. News "Best Nursing Home". Hillhaven earned overall rating of High Performing which incorporates the highest ratings in both Short-Term and Long-Term Care.
"We are extremely proud of this recognition of Hillhaven earning a position on U.S. News & World Report's 2019-20 Best Nursing Homes list," says Chris McGee, Meridian Senior Living Vice President of Operations. "Our amazing staff works so diligently, and we pride ourselves in providing excellent care, attention to detail, and unparalleled customer service to our residents and families."
U.S. News based their rankings on the analysis of published federal government data and the rating of factors that they have determined to greatly impact resident care, safety, and outcomes. In order to calculate an overall score for each facility, U.S. News evaluates the care of an encompassing range of resident circumstances including shorter term rehabilitation and long-term chronic care. U.S. News assesses consistency and levels of staffing in the nursing homes as these factors are significant in maintaining quality and safety of service. Weighed most heavily in the rankings, U.S. News measures resident outcomes including how often short-term patients effectively return home and how often long-term residents require hospital care.
Located at 3210 Powder Mill Road in Adelphi, MD, Hillhaven provides assisted living, memory care, rehabilitation, and skilled nursing services. For more information about Hillhaven, please call (301) 304-4232 or visit: hillhavenassistedliving.com. See the full list of U.S. News' "Best Nursing Homes" for 2019-20 on their site.
About Meridian Senior Living:
Meridian Senior Living, a privately held company based in Bethesda, Maryland, owns and operates seniors housing communities across the country and provides operational consulting to 24 communities in China. With more than 70 communities in 21 states and more in development, Meridian is one of the largest seniors housing operators in the U.S. The company prides itself on providing the highest quality care, exceptional lifestyle programming and a distinctive dining experience for its residents. For more information on Meridian Senior Living, visit meridiansenior.com.