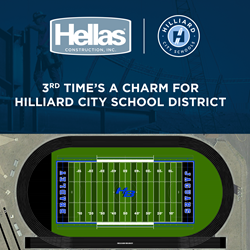 "We have been very pleased with the performance and durability of the Hellas turf." Cliff Hetzel Chief Operating Officer
COLUMBUS, Ohio (PRWEB) March 29, 2021
Hilliard Bradley High School will modernize its outdoor athletic facilities this spring to match Davidson and Darby High Schools. In 2017 Hilliard City School District (HCSD) switched from natural grass to synthetic turf at two of the high schools and upgraded part of the track at Davidson High School with Hellas Construction. This spring, Bradley will install Hellas' Matrix Helix® turf, a Cushdrain® shock pad, Realfill™ Infill, and add an epIQ Tracks® Q3000 system.
Cliff Hetzel, Chief Operating Officer said, "We have been very pleased with the performance and durability of the Hellas turf. After 4 seasons, our Gmax rating has not changed and fulfills the safety-first focus we had on the project. The District has further benefited from Hellas' high-quality Cushdrain shock pad; which also extends the usable life of the surface while lowering the lifecycle costs over a 25-year period – both of which we see as an advantage that adds significant value. The bottom line is that it has performed as we had hoped and looks fantastic!"
Matrix Helix turf has been trusted by eight NFL teams for their game field or practice facilities. The helix technology adds memory and strength to fibers, allowing the fibers to spring back quickly after use, creating an ideal playing surface. Matrix Helix quality, performance, longevity, and aesthetics are unmatched in the industry.
Hilliard Bradley High School is comprised of 1734 students and located northwest of Columbus, Ohio. Unlike Davidson and Darby High School, Bradley already has a synthetic turf multi-purpose field which will be removed along with the degrading nailer board. The project was approved at the January board meeting in which HCSD also opted to install Eco Nailer™ boards to ensure less waste under their future fields.
Eco Nailer is an ecologically friendly nailer board used in the turf installation process to secure the synthetic turf in place. Eco Nailer is 100% recycled plastic made from turf waste. Eco Nailer will not rot, mildew, decay, or warp, even under extreme freeze-thaw cycles and in wet climates. Eco Nailer has a 25-year warranty and will last 2-3 turf cycles.
Another differentiation between the Bradley and Davidson/Darby is the epIQ Tracks® Q3000. The Q3000 is the preferred, high-quality performance track system, made from eco-friendly, non-petroleum-based materials. It is impermeable, poured-in-place, and installed in a multi-layered application. Bradley's track will be the envy of the entire state and likely to host many regional meets.
Will Batt, Business Development Manager said, "It has been a pleasure working closely with everyone at Hilliard City Schools throughout this process to update Hilliard Bradley Athletic Facilities. I want to thank the Board of Education of Hilliard City Schools for putting their trust in Hellas Construction for a third time and continuing what has been, and continues to be a great partnership. I am extremely excited to get this project underway."
Hellas Construction, headquartered in Austin, TX, has a regional office in Boardman, OH to serve the midwestern states. Hellas takes a turn-key approach to athletic facilities. Hellas owns and operates its own construction and installation equipment using its own crews. The firm also manufactures its own synthetic turf, track and court surfacing materials at three factories in the United States. These investments allow Hellas to meet the timing, budget, and quality demands of its clients without reliance upon third parties.
Hellas Construction, Inc. headquartered in Austin, TX, is the largest vertically-integrated sports construction contractor in the United States, specializing in the general construction of sports facilities and sports surfaces. Hellas champions innovative artificial turf manufacturing, base construction, field, track and tennis planning, along with installation and maintenance. hellasconstruction.com
Hilliard City School District, mission is to ensure that every student is Ready For Tomorrow. The community is one of the fastest-growing in the state of Ohio with over 87,000 residents and over 16,600 school students. The district celebrates diversity through its current rapid growth.