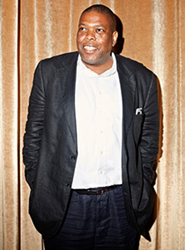 Los Angeles, CA (PRWEB) January 12, 2016
Otis College of Art and Design's Fine Arts Department presents a lecture by cultural critic Hilton Als: Diane Arbus in Manhattan, February 1, 2016, 7:30 p.m. at the Los Angeles County Museum of Art (LACMA) Bing Theater.
Event Details
Lecture: Hilton Als on "Diane Arbus in Manhattan"
Monday, February 1, 7:30 p.m.
Los Angeles County Museum of Art - The Bing Theater
5905 Wilshire Blvd, Los Angeles, CA 90036
The lecture is free and open to the public, but reservations are required. Parking lots are free after 7 p.m. Additional information available at http://www.otis.edu or by calling (310) 665-6885. Ticket information: (323) 857-6010 or http://www.lacma.org
"Diane Arbus in Manhattan" is Hilton Als' paean to the great photographer and the city that helped make her. Born in New York in 1923, the artist left an invaluable record not only of a city defined by difference, but a rough and tumble fairyland where fantastic figures lived real lives. In this piece Als discusses not only his relationship to Arbus' work, but a hitherto rarely examined exponent of it - Manhattan.
Otis College of Art and Design's Fine Arts Department and Los Angeles County Museum of Art's Wallis Annenberg Photography Department present this lecture.
Hilton Als became a staff writer at The New Yorker in October, 1994, and a theater critic in 2002. He began contributing to the magazine in 1989, writing pieces for The Talk of the Town.
Before coming to The New Yorker, Als was a staff writer for the Village Voice and an editor-at-large at Vibe. He has also written articles for The Nation and collaborated on film scripts for "Swoon" and "Looking for Langston."
Als edited the catalogue for the Whitney Museum of American Art exhibition entitled "Black Male: Representations of Masculinity in Contemporary American Art," which ran from November, 1994, to March, 1995. His first book, "The Women," a meditation on gender, race, and personal identity, was published in 1996.
In 1997, the New York Association of Black Journalists awarded Als first prize in both Magazine Critique/Review and Magazine Arts and Entertainment. He was awarded a Guggenheim for Creative Writing in 2000 and the George Jean Nathan Award for Dramatic Criticism for 2002-03. In 2009, Als worked with the performer Justin Bond on "Cold Water," an exhibition of paintings, drawings, and videos by performers at La MaMa Gallery. In 2010, he co-curated "Self-Consciousness," at the Veneklasen Werner Gallery in Berlin, and published "Justin Bond/Jackie Curtis," his second book.
Als has taught at Yale University, Wesleyan, and Smith College. He lives in New York City.
About Otis College of Art and Design
Established in 1918, Otis College of Art and Design is a national leader in art and design education. The College mission is to prepare diverse students of art and design to enrich our world through their creativity, skill, and vision. Alumni and faculty are Fulbright, MacArthur, and Guggenheim grant recipients, Oscar awardees, legendary costume designers, leaders of contemporary art movements, and design stars at Apple, Anthropologie, Patagonia, Adobe, Pixar, DreamWorks, Mattel, Nike, and Disney.
Otis enrolls approximately 1,100 full-time students, and offers Bachelor of Fine Arts degrees in Architecture/Landscape/Interiors, Digital Media (Game and Entertainment Design, Animation, and Motion Design), Fashion Design, Communication Arts (Graphic Design, Illustration, and Advertising Design), Fine Arts (Painting, Photography, and Sculpture/New Genres), Product Design, and Toy Design. Otis also awards the Master of Fine Arts degree in Fine Arts, Graphic Design, Public Practice, and Writing.
The five-acre main campus is located on L.A.'s Westside near the beach and LAX; the Graduate Studios are in nearby Culver City, and in the 18th Street Arts Center in Santa Monica.
2,700 adults and children participate in Continuing Education art and design classes and workshops.
Additional information is available at http://www.otis.edu