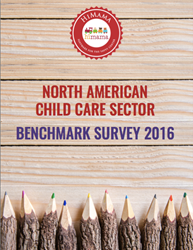 Survey participants ranked their top priorities for 2016 as customer satisfaction, talent and recruitment, and education and programs.
Baltimore, MD (PRWEB) June 01, 2016
HiMama, a leading provider of technology to the child care and early learning sector, today made available its 2016 Benchmark Report of the North American Child Care Sector, the first of its kind in the industry. The 2016 Benchmark Report from HiMama, fielded September to November, 2015, contains self-reported data from privately-held and publicly-traded child care and early learning organizations in the U.S. and Canada with 20 or more locations.
HiMama designed the 2016 Benchmark Report to capture insights on the child care and early learning sector, based on survey responses from individual organizations. The Benchmark Report provides information on such things as average center capacity and occupancy, age group segmentation, price points, employee expense ratios, financial performance ratios, and outlook for the year.
The Report is intended to serve as a tool to those in the child care and early learning sector to measure where their performance stands amongst their peers in high level operational and financial metrics, and also provides insight into sector priorities. By comparing metrics to other businesses, the Report should enable executives to better understand the relative effectiveness of their efforts and find areas to make adjustments for continuous improvement.
"Often organizations will focus their performance metrics internally, looking at how they have done relative to internal plans and budgets and compared to previous years. However, comparing externally to other organizations in an industry through a benchmark survey is a significant opportunity to identify areas for improved performance," said HiMama CEO, Ron Spreeuwenberg.
One of the survey findings was that participants were prioritizing capabilities that support quality of child care ahead of growth and operational efficiency in 2016. Survey participants ranked their top priorities for 2016 as customer satisfaction, talent and recruitment, and education and programs. These priorities were ranked ahead of marketing and brand enhancement, new center acquisition and build, cost reduction and efficiencies, and technology implementations.
"It is encouraging to see that child care organizations in North America are prioritizing quality of care over expansion and cost reductions. Large, for-profit child care organizations are sometimes viewed in a negative light because of a perceived dichotomy between profits and quality child care, however, the results of this survey suggest that these two can go hand-in-hand," stated Spreeuwenberg.
The survey also found that the general sentiment for 2016 was cautiously optimistic with the majority of organizations describing their outlook as being neutral to positive. Specifically, survey respondents indicated a forecasted growth rate of 4.8% in the number of locations they plan to serve in 2016.
The full report can be downloaded at http://research.himama.com/childcare-benchmark-report/
-----
About HiMama
HiMama is a leading provider of documentation and parent communication apps to the child care sector. HiMama apps enable leading child care, preschool, and early learning programs to build stronger relationships with their families and streamline operations. HiMama operates out of Baltimore and Toronto.