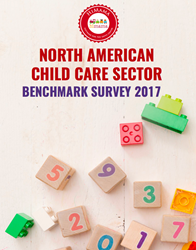 68% of for-profit child care organizations ranked 'Labor' as their top risk and 65% ranked 'Talent and Recruitment' as their top priority
Toronto, Canada (PRWEB) June 27, 2017
HiMama, a provider of software for child care and preschool programs globally, today made available the 2017 Child Care Benchmark Report. This marks the second year that HiMama has published the Child Care Benchmark Report with data from privately-held, publicly-traded and not-for-profit child care and early learning organizations in the U.S. and Canada.
The Child Care Benchmark Report presents self-reported data such as average child care center capacity, occupancy rates, age group segmentation, price points, employee salaries and education levels, financial performance ratios, as well as subsidized child care funding, among other key operational and performance metrics. The Child Care Report provides leaders in early childhood education with data and insights on the sector and serves as a tool to measure performance relative to their peer group.
"This is the second year that we have released the Benchmark Report and we are seeing a lot of interest from senior executives and leaders in the field as this is the only source for this type of information. Early childhood education is essential for children and society, yet it is highly under-funded, so we are pleased to offer the Report in the hope that it will further the conversation on this topic of paramount importance," said HiMama CEO, Ron Spreeuwenberg.
Survey participants reported that labor was once again the primary risk facing their organization, ahead of other risks including financial sustainability, regulations and operational risks. For-profit child care organizations participating in the survey reported that the child care workforce was top-of-mind - 68% of for-profit child care organizations ranked 'Labor' as their top risk and 65% ranked 'Talent and Recruitment' as their top priority for 2017.
As a follow up to the Benchmark Report, HiMama further investigated employee engagement in early childhood education as it relates to the labor risk reported by survey participants in the child care sector. The analysis, that used data and reviews from the website Glassdoor, found that employee ratings of employers were markedly lower for child care companies relative to the average across all companies listed on the Glassdoor website.
"Attracting and retaining top talent in child care and early learning programs has been, and continues to be, a major challenge faced by the child care sector. Due to the lack of investment in early childhood education, a lot of top talent defects to other opportunities, including teaching at the K-12 level, which is financially more rewarding," stated Spreeuwenberg.
However, despite under-investment, and in turn lower wages in the child care sector, HiMama's analysis of employee reviews on Glassdoor found that compensation was not the number one issue that employees reported facing in their job. The top issues that employees reported were related to leadership and culture.
The Child Care Benchmark Report did, however, find that sector sentiment was generally positive, with 64% of survey respondents describing their outlook as positive or strongly positive. Specifically, 29% of survey respondents plan to open new locations and 40% plan to add new child care spaces in 2017.
The positive outlook from the market is in the context of an increasing number of research studies, including most recently from James Heckman, economist and Nobel Laureate, regarding the high rate of return on investment in early childhood education. Heckman reports improved life outcomes resulting from high quality preschool programs ranging from higher employment rates to lower blood pressure.
The full Child Care Benchmark Report can be downloaded at the following URL:
https://www.himama.com/blog/benchmark-2017
About HiMama
HiMama is a software company with a social purpose that enables child care, preschool, and early learning programs to realize educational and business leadership. HiMama is also an advocate for early childhood professionals, with campaigns such as the Early Childhood Educator of the Year and weekly episodes of The Preschool Podcast. HiMama operates out of Toronto, Canada.