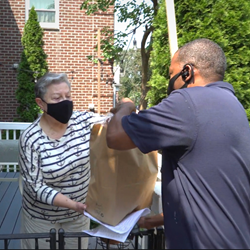 If there ever was a silver lining in 2020, I would have to say it was the way our staff worked together to quickly re-create the type of PACE programming that our most vulnerable New Yorkers rely upon.
BRONX, N.Y. (PRWEB) January 25, 2021
The Friends of CenterLight Foundation today announced that it was able to serve its members with new services and programming during the COVID-19 pandemic of 2020. The Friends of CenterLight Foundation is part of CenterLight Health System, which operates Teamcare, New York's largest Program of All-inclusive Care for the Elderly (PACE), and one of the oldest such programs in the United States.
CenterLight serves New York's most vulnerable older adults. They comprise low-income seniors who would typically turn to CenterLight's centers every day for services such as meals, recreation, medical care and transportation.
Each day, CenterLight delivers highly-personalized care to thousands of participants across the New York metropolitan area through the combined talents, expertise and dedication of its Interdisciplinary Team (IDT). The IDT includes but is not limited to a physical therapist, an occupational therapist, a doctor, a social worker, a nurse, a therapeutic recreation specialist, a dietician, and IDT Manager at Teamcare. In 2020, the organization marked 100 years of serving New York seniors in need.
Help For Food Insecure Participants
In March, when the pandemic first struck New York, CenterLight was forced to close its centers to all activities except medical care. The Foundation worked to help pivot programming in a way that engaged members who remain in self-isolation.
The Foundation took over a center that was temporarily closed to its participants and re-configured it to create the Wallerstein Food pantry. This pantry was quickly stocked with dry goods, paper goods, pastas and cereals, canned soups, and fresh produce. Once a week, CenterLight's staff would collect names of its members who had become food insecure due to the pandemic and deliver a week's worth of food throughout New York City and Westchester County. The food is delivered via the transport vehicles that CenterLight would normally use to take members from their homes to the centers daily. This program continues, and the Foundation intends to keep it running throughout 2021.
Easing Isolation Among At-Risk Elderly
Aside from daily medical care, socializing and recreation is a critical part of the eldercare that members received daily when the centers were open. With participants home quarantining, the Foundation recognized and immediately acted upon the need to offer recreational experiences to help combat feelings of loneliness and isolation.
Staff quickly began offering a 5-day a week program of virtual experiences for members to enjoy. These activities included: Together in Music, Guided Meditation, Sit and be Fit, Bingo, How to Make Chocolate Brownies, Book Club, Crafts Hours, Name that Tune, Yoga and Comedy Time. Each week, a new schedule for virtual activities is created and sent to all members and staff
"If there ever was a silver lining in 2020, I would have to say it was the way our staff worked together to quickly re-create the type of PACE programming that our most vulnerable New Yorkers rely upon," said CenterLight CEO David Rock. "In doing so, we are pioneering new ways to engage our participants and meet their needs in this new normal."
COVID-19 Participant Education
To help participants manage through an unprecedented public health threat, CenterLight drew on internal expertise to create a colorful, easy-to-understand education pamphlet to help keep participants informed and dispel common myths surrounding Coronavirus. This piece was translated into multiple languages and included in a care package to participants that included hand sanitizer and a face mask.
First-Ever Virtual Gala
On October 28, 2020, the Friends of CenterLight Foundation hosted its first-ever virtual fundraising gala, "Rising to the Challenge for 100 Years," which marked CenterLight's century-long legacy of caring for New Yorkers in need. This live, online gathering was a fun, heartfelt and meaningful evening, which included special guests and opportunities to network, interact and learn about how the Foundation has addressed the challenges created by the Coronavirus pandemic. CBS Medical Contributor and New York Times bestselling author David B. Agus, MD will be the evening's keynote speaker. Emmy-awarding winning journalist Soledad O'Brien served as the event's emcee. Proceeds raised from the Gala are being used to continue and build upon the Foundation's critical programming.
About Friends of CenterLight
The Friends of CenterLight Foundation is a 501(c)(3) charity dedicated to improving the lives of CenterLight participants by helping them to maintain their health, well-being and autonomy in environments that honor their individual needs, values and preferences. Learn more at http://www.centerlight.org/foundation.
About CenterLight Teamcare
CenterLight Teamcare, a program of CenterLight Healthcare, operates 14 locations throughout New York City, Westchester and Nassau/Suffolk Counties and empowers older adults to continue to live independently, at home and in their communities. Providing culturally sensitive care to thousands of New Yorkers daily, CenterLight staff speaks 26+ languages and dialects, including Arabic, Albanian, Chinese, Creole, English, Korean, Hindi, Punjabi, Russian and Spanish. CenterLight Teamcare develops individualized care plans, which are carried out by a dedicated interdisciplinary team (IDT) of doctors, nurses, physical therapists, nutritionists, recreational therapists and other professionals working in concert to provide care as unique as the richly diverse participants enrolled in the plan.
Learn more at http://www.centerlighthealthcare.org.