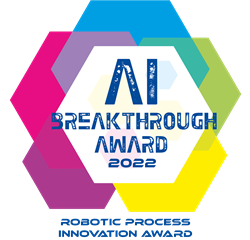 "By freeing up the multitasking time of call center agents, HGS Agent X accelerates every customer interaction, providing a thorough response while decreasing the amount of human effort required to address the volume and complexity of incoming customer queries"
LOS ANGELES (PRWEB) June 23, 2022
AI Breakthrough, a leading market intelligence organization that recognizes the top companies, technologies and products in the global Artificial Intelligence (AI) market, today announced that it has selected Hinduja Global Solutions (HGS) (listed in BSE & NSE in India), a leading and innovative provider of solutions in consumer engagement, digital CX, and business process management (BPM), as the winner of "Robotic Process Innovation Award" in the fifth annual AI Breakthrough Awards program, recognizing the breakthrough innovation of HGS Agent X.
HGS Agent X uses Robotic Process Automation (RPA) to help call center agents more quickly enter data and serve the customer. Information can now easily be extracted as well as compiled in the background by this innovative process. The impact of RPA is intensive and can be felt by both the agent as well as the customer. Its effects are far-reaching across the contact center process's key performance indicators including: Average Handling Time (AHT), Turn-Around Time (TAT), Net Promoter Score (NPS), and Customer Satisfaction (CSAT.)
HGS Agent X significantly reduces the time required to identify the customer in the system and view all the necessary details associated with them in one screen. The solution seamlessly integrates into a brand's existing ecosystem, reducing agent training and onboarding time. It also works to improve agent productivity, ramp up response time while reducing multiple screens with one unified tool.
Additionally, the solution fosters collaboration and knowledge sharing among agents while providing customers with AI-driven value-add information that leverages deeper insights and seamlessly accesses full visibility of operational metrics and insights. This allows for understanding customer sentiment in real time.
"By freeing up the multitasking time of call center agents, HGS Agent X accelerates every customer interaction, providing a thorough response while decreasing the amount of human effort required to address the volume and complexity of incoming customer queries," said Venkatesh Korla, President and CEO, HGS Digital. "Seventy percent of customers say seamless CX interactions impact their product and service preferences. With HGS Agent X, we aim to ensure an augmented overall customer experience through the reduction in human error as well as an overall quicker and smoother experience."
The mission of the AI Breakthrough Awards is to honor excellence and recognize the innovation, hard work and success in a range of AI and machine learning related categories, including AI platforms, Deep Learning, Smart Robotics, Business Intelligence, Natural Language Processing, industry specific AI applications and many more. This year's program attracted more than 2,950 nominations from over 18 different countries throughout the world.
"It's an incredibly time-consuming process with agents having to enter information on multiple screens for each order, with over 40 percent of contact centers saying they are experiencing an increase in contact complexity," said James Johnson, managing director, AI Breakthrough. "HGS Agent X delivers a breakthrough solution to address these complexities for the agent while the customer does not have to wait for the agent to load all the details – ultimately improving customer service while restricting the average call duration. Congratulations to the HGS team on being our choice for our 2022 "Robotic Process Innovation Award."
HGS Agent X is a comprehensive, highly customizable, enterprise-grade solution enabling contact centers to ramp up ROI by increasing efficiencies by automating mundane agent tasks, reducing agent task and talk time. Lastly, the solution delivers seamless omnichannel support from a single Cloud-based platform and can be customized to meet any process requirements with a software-agnostic, Desktop as a Service solution.
About AI Breakthrough
Part of Tech Breakthrough, a leading market intelligence and recognition platform for global technology innovation and leadership, the AI Breakthrough Awards program is devoted to honoring excellence in Artificial Intelligence technologies, services, companies and products. The AI Breakthrough Awards provide public recognition for the achievements of AI companies and products in categories including AI Platforms, Robotics, Business Intelligence, AI Hardware, NLP, Vision, Biometrics and more. For more information visit AIBreakthroughAwards.com.
About Hinduja Global Solutions (HGS)
A global leader in optimizing the customer experience lifecycle, digital transformation, and business process management, HGS is helping its clients become more competitive every day. HGS combines automation, analytics, and artificial intelligence with deep domain expertise focusing on digital customer experiences, back-office processing, contact centers, and HRO solutions. Part of the multi-billion-dollar conglomerate Hinduja Group, HGS takes a "globally local" approach. HGS is present in seven countries, with over 21,600 employees across 38 delivery centers, making a difference to some of the world's leading brands across verticals. For the year ended March 31, 2022, HGS had revenues of Rs. 32,636.9 million (US$ 439 million), excluding revenues of the recently divested healthcare business
Visit https://hgs.cx/ to learn how HGS transforms customer experiences and builds businesses for the future.