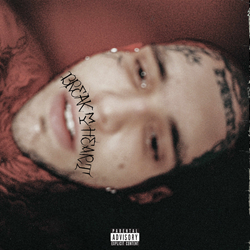 I've been working really hard on putting out new music. I'm really proud to share 'Break My Heart' as a first glimpse into my project, SSDD - says Ricky Hil
LOS ANGELES (PRWEB) November 13, 2020
Ricky Hil, alternative hip-hop artist, lyricist, songwriter and producer is releasing his highly anticipated new single and music video, Break My Heart, produced by Hedcvse, via 10K Projects. 
Break My Heart is a reflection of Ricky Hil's unique style featuring dark poetic lyrics paired with hypnotically charged beats and soul-baring sound - an undeniable level of artistry that steadily operates throughout the entire track. 
The single tells the raw truth of Ricky's love life. It's a dark story of what companionship can look like for his generation in this day and age, rather than the rose-tinted lenses that are typically presented in society. 
"I've been working really hard on putting out new music. I'm really proud to share 'Break My Heart' as a first glimpse into my project, SSDD," says Ricky Hil.
Ricky Hil is an accomplished artist who has previously released collaborations with The Weeknd, and Leona Lewis from his LP, SYLDD. Over the years, the approach of his unapologetic honesty to his music, has left a powerful impact on an entire wave of musicians within the underground scene, including a number of rappers/singers who've emerged as major cultural figures (Lil Peep, Juice WRLD, The Weeknd, XXXTentacion).
Ricky Hil has been featured in Complex, Pitchfork, HypeBeast, Hot New Hip Hop, Fact Magazine, Elevator, Impact Magazine, Sidewalk Hustle and many more. 
Break My Heart is available now on Apple Music, Spotify and all streaming services. 
About Ricky Hil: Ricky Hil is a Los Angeles-based recording artist who's made a name for himself in the Alternative Rap and Hip Hop scene. Ricky has released several full-length projects and has worked with the likes of The Weeknd, Fat Trel, Leona Lewis, and many others. Be sure to follow Ricky Hil on Social Media @RickyHil