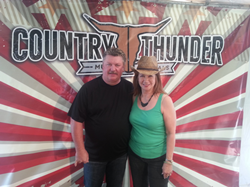 "There may be some younger fans that have to do some research and figure out who Joe Diffie is, but obviously people in the business know he's a great singer and one of the best vocalists we've had in this town in years," shared Jason Aldean.
ATLANTA (PRWEB) January 23, 2020
Grammy Award Nominated R&B/Hip-Hop Artists NAPPY ROOTS on The DM Zone with your host Dianemarie Collins. Learn how Hip-Hop is converging with Craft Beer in this great interview and get a preview of Nappy Roots' new reality show from PAM Studios - "40Akers & A Brew." Get the lowdown on what may be an exciting craft beer on an airline soon ... so much news and honest comments here from Nappy Roots!
"It's unusual for a hip-hop group to pursue opportunities in the craft beer business, but it's our passion and a great way for our followers to more deeply connect with the Nappy Roots brand," said Fish Scales,Nappy Roots co-founder. "We've been developing taste profiles at our own microbrew and are pumped to share our latest creation as part of the reality television show."
After more than 20 years in the public eye, GRAMMY-nominated #NappyRoots has added to their repertoire by expanding beyond music into projects that include craft beer and television production with "40Akerz & a Brew." The alternative Southern rap group has been nominated for two GRAMMY Awards, and is best known for hit singles such as Good Day, Po Folks and Awnaw.
DM talks with Joe Diffie about his resurgence thanks to the Jason Aldean song '1994' and a bunch of new projects Joe is working on - The DM Zone live from Country Thunder.
Billboard sent the song to Joe Diffie to gauge his reaction. "First of all, wow!" was his response. "Jason's found a really cool niche and he dang sure delivered on '1994'-big time. I mean, what else can you say but what an honor it is to have the larger part of a song reference songs of mine. To think all of Jason's fans will be chanting my name… pretty dang cool."
#JoeDiffie calls himself an #JasonAldean fan. "I really like how Jason is pushing the envelope of today's country music," he says. "It's a tough thing to do and takes a lot of cojones."
In the end, "every time I hear the song, it puts a huge grin on my face," Diffie says. "It makes me feel that what I worked so hard at actually mattered to someone."
Dianemarie Collins and #TheDMZone caught up with jazz trumpeter #CindyBradley for her live performance at The Rhapsody Jazz Cafe (http://TheRhapsodyJazzCafe.com) in Huntsville, Alabama. The video interview also features some of Cindy's live jazz performances.
We discovered all kinds of fun facts about Cindy including her husband #DavidClark who plays in the top #BillyJoel Tribute Bands, #AndyTaylor and TaylorTrumpets.com who made the fabulous custom pink trumpet for Cindy, "The Little Things" - the new album from Cindy Bradley, and how Cindy got started in the 4th grade playing the trumpet.
Our video interview also features some great live performance footage from Cindy Bradley Live At The Rhapsody Jazz Cafe! Enjoy this extraordinary musician.
ABOUT THE DM ZONE
The DM Zone is a syndicated, online television channel that is hosted across multiple video platforms across the Internet. With combined views exceeding 1.2M unique views over the last 12 months, the DM Zone is a compelling platform for politicians, authors, actors, athletes, musicians and other creative professionals.