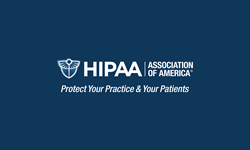 "We created the HIPAA Association of America because medical offices need to better equip themselves with the tools required to be HIPAA compliant" - Ryan Alovis, CEO of HIPAA Association of America
GARDEN CITY, N.Y. (PRWEB) September 24, 2018
HIPAA Association of America (HAOA.org), a national organization focused on helping medical practices address everything required to become HIPAA compliant, is proud to announce its launch.
By joining HAOA.org, members will be able to manage their HIPAA policies and procedures via a cost-effective cloud-based solution and address every element of HIPAA compliance.
Additionally, upon membership activation, members will be awarded the HAOA.org's Shield of HIPAA Compliance which demonstrates their efforts toward satisfying the HIPAA standards and creating an effective HIPAA compliance program.
HAOA.org looks to assist an underserved market which is comprised of over one million doctors all over the United States.
With fines ranging from $100 to $50,000 per violation (or per record), with a maximum penalty of $1.5 million per year for each violation, HAOA.org aims to give medical offices the necessary tools required to protect their practice and patient's information.
"We created the HIPAA Association of America because medical offices need to better equip themselves with the tools required to be HIPAA compliant," said Ryan Alovis, President and CEO of HIPAA Association of America. "Sensitive information is becoming more readily available and patients are becoming more educated on the requirements of HIPAA."
HAOA.org's leading HIPAA compliance software is the simplest way for medical offices to keep their HIPAA compliance up to date.
For more information on the HIPAA Association of America:
Company Website: http://www.haoa.org
Company Facebook Page: http://www.facebook.com/haoa.org
Company Toll-Free Number: 1-844-HAOA-ORG (426-2674)
About the HIPAA Association of America (HAOA.org):
The HIPAA Association of America (HAOA.org) is a national organization that has created a cutting-edge cloud based software meant to help simplify the HIPAA compliance process so that healthcare professionals can focus on what they do best – running their practice. By joining the HAOA.org, members can manage their HIPAA compliance policies and procedures.