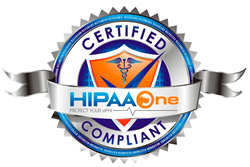 Patient care and breach-notification transcend the custody of trust between physicians, health insurance companies and their vendors, said Steven Marco, President and Founder, HIPAA One
LINDON, Utah (PRWEB) October 02, 2018
As part of their commitment to offer "everything HIPAA under one roof," HIPAA One is adding to their already robust line-up of compliance software and services. Designed as a digital document repository, HIPAA One's Business Associate Agreement Management Tool (BAA) allows healthcare providers to create and organize vendor contracts in one easy, web-based application.
"Patient care and breach-notification transcend the custody of trust between physicians, health insurance companies and their vendors," said Steven Marco, President and Founder, HIPAA One. "If a Business Associate experiences a patient data-breach, their corresponding Covered Entity is liable for notifying Health and Human Services along with their patients, even if it is of no fault of their own. Physicians and payers can rest a bit easier when giving their patients' data to vendors with satisfactory HIPAA assurances."
BAA reduces administrative costs while meeting the HIPAA/HITECH document requirements per the HIPAA Privacy and Security Rule. The application's intuitive data-entry screen allows for efficient vendor set-up in less than 60 seconds while boasting a daily email reminder schedule, real-time agreement status updates and complaint E-SIGN process.
Click here to learn more about HIPAA One's BAA Solution.
About HIPAA One:
At HIPAA One we develop solutions that are simple, automated and affordable. Our services allow our healthcare clients to focus on their important objectives: core competencies, improving compliance and reducing operating costs. Designed for auditors seeking advanced functionality, partners and office managers alike, the software scales from the single-doc practice to enterprise organizations needing analytics and "always current" HIPAA controls. We understand the challenges the healthcare community faces to meet HIPAA compliance regulations.
Contact Us today to learn how the HIPAA One Security Risk Analysis and Privacy & Breach Notification Risk Analysis Software platforms will enable your organization to appropriately safeguard protected health information.