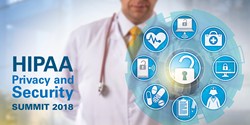 Attendees are eligible to receive 7.5 CLE credits (6.5 substantive, 1 ethics) in Delaware, New Jersey, and Pennsylvania.
WILMINGTON, Del. (PRWEB) September 20, 2018
The HIPAA Privacy and Security Summit is a joint effort of Widener University Delaware Law School and First Healthcare Compliance to provide resources and increase understanding for professionals facing the challenges of HIPAA compliance. The full-day event will be held on November 8, 2018, in Ruby R. Vale Moot Courtroom at the Delaware Law School and will include continental breakfast, lunch, CLE and CEUs, and a complimentary copy of the new book "HIPAA Privacy and Security" by First Healthcare Compliance. Registration is open to the public, but availability is limited.
Expert attorneys will engage with panelists and attendees to discuss timely questions and real-life scenarios related to HIPAA privacy and security including Notice of Privacy Practices, Business Associates, employee training, patient rights, safeguards, electronic health records, breaches, cybersecurity and more. Attendees are eligible to receive 7.5 CLE credits (6.5 substantive, 1 ethics) in Delaware, New Jersey, and Pennsylvania. This program has been approved for 7.5 continuing education unit(s) by Practice Management Institute® and PAHCOM. The Compliance Certification Board (CCB)® has approved this event for up to 9.0 CCB CEUs. Continuing Education Units are awarded based on individual attendance records. Granting of prior approval in no way constitutes endorsement by CCB of this event content or of the event sponsor.
Presentations and panels will be led by the following experts:
Vince Albanese CEO and Founder at Haven Health will serve as the distinguished speaker. Vince is an innovator and successful serial entrepreneur whose skills span decades of success and cutting-edge innovation. His company, Haven Health focuses exclusively on delivering enterprise-grade healthcare blockchain solutions.
Jennifer Gimler Brady, Esq., Partner and General Counsel, Potter Anderson & Corroon LLP
Ms. Brady is the immediate past chair of the firm's Litigation Group and a former member of the firm's Executive Committee, on which she served for over a decade. She currently serves as General Counsel to the firm. Ms. Brady concentrates her practice in the areas of health law, labor and employment law, and commercial litigation.
Kathleen W. McNicholas, MD, JD
Dr. McNicholas earned an MD from Jefferson Medical College magma cum laude and completed general surgery training at Columbia Presbyterian Medical Center and served as a surgical house officer in London at the Hospital for Sick Children, Great Ormond Street. She remained at CPMC for cardiothoracic training and chief residency then returned to GOS as the senior registrar in the cardiac unit. Dr. McNicholas was chief of pediatric cardiac surgery at Deborah Heart and Lung Center prior to starting the cardiac surgery program in Delaware. Seeking a hobby, she studied law at the Delaware Law School and earned a JD cum laude and an LLM in health law with honors. After retiring from clinical practice, she completed a fellowship in patient safety leadership and became the medical director of performance improvement and patient safety and lead the Just Culture program and CANDOR. Currently, Dr. McNicholas is a consultant and patient advocate.
Rachel V. Rose, JD, MBA
Ms. Rose is a Houston-based attorney advising on federal and state compliance and areas of liability associated with a variety of healthcare, legal and regulatory issues including HIPAA, the HITECH Act, the False Claims Act, Medicare issues, women's health as well as corporate and security regulations
Marlowe Schaeffer-Polk, JD, DO Co-Founder Medlawguard, LLC
As both a practicing attorney (Villanova University School of Law) and practicing physician (Philadelphia College of Osteopathic Medicine), Dr. Schaeffer brings a unique approach to the rapidly developing changes in the practice of medicine, law and technology. Dr. Schaeffer is a co-founder of Medlawguard, a medico-legal risk mitigation consultancy that serves the needs of healthcare organizations in the digital age, with offices in Philadelphia, Pennsylvania and Palo Alto, California. In her role as CMO of Medlawguard, she works closely with hospital administrations and other healthcare organizations providing advice on how they might best mitigate their organizational risk while cost-effectively addressing their regulatory and compliance requirements.
Catherine Walters, Esq.
Catherine E. Walters is an employment and labor attorney who provides management-side representation and compliance services for employers of all sizes, including privately and publicly held companies, government contractors, health care providers, institutions of higher education, entrepreneurs, trade associations and other non-profit organizations. Her practice spans an array of industries, including financial and banking, manufacturing, defense contracting, health care, education, professional services, insurance, construction, technology, retail, real estate, and hospitality. Catherine recently joined the law firm of Bybel Rutledge LLP as a partner, where she serves as Chair of the Employment/Labor Law Group
Four sessions will include the topics of HIPAA Privacy and Security with lecture and panel discussions. The distinguished speaker will cover Blockchain in healthcare and the final session of the day will center on Ethics and HIPAA.
About Delaware Law School: Widener University is a metropolitan university that connects curricula to social issues through civic engagement. Dynamic teaching, active scholarship, personal attention, applied leadership, and experiential learning are key components of the Widener experience. Delaware Law School is the First State's only law school, providing a Juris doctor, legal graduate and paralegal degree programs with an emphasis on developing legal professionals who reflect the Delaware Way and its traditions of civility, integrity and mutual respect. The school offers signature programs in corporate and business law, environmental law, family health law and policy, trial advocacy, and dignity rights.
About First Healthcare Compliance: Founded in 2012 by a nurse attorney, the First Healthcare Compliance software solution creates confidence among compliance professionals through education, resources, and support in the areas of HIPAA, OSHA, human resources compliance, and fraud waste and abuse laws. Serving clients across the United States, the company's evolving platform provides real-time insight for board reporting and across multiple locations. For more information please visit https://1sthcc.com/