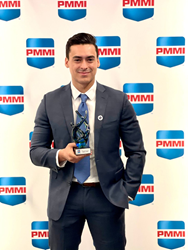 "We are honored to have Anthony as part of the Hiperbaric team. Since day one, Anthony has shown initiative and dedication to move Hiperbaric forward as a company," said Roberto Peregrina, director, Hiperbaric USA. "He has immersed himself in the industry and our company, working alongside our diver
MIAMI (PRWEB) November 19, 2021
PMMI, The Association for Packaging and Processing Technologies, has named Anthony Zapata, Marketing & Sales Specialist for Hiperbaric, a 2021 On the Rise Award winner. Developed by PMMI's Emerging Leaders Committee, the fourth annual awards recognize only 10 young professionals who have demonstrated leadership potential in the packaging and processing industry.
Hiperbaric, the world's leading manufacturer of high pressure processing (HPP) equipment for the food and beverage industry, added Zapata to its marketing team almost two years ago. Since then, Zapata has been able to maximize a $1M marketing budget to generate over 1,700 leads and $80M in marketing-sourced opportunities, which allowed Hiperbaric to close $22M in new HPP machinery business.
Zapata has enhanced Hiberbaric's sales operations, data analysis and lead management practices. He helped efficiently segment the company's database and create email nurturing campaigns using content marketing to qualify sales leads. Zapata took the company's marketing initiatives to new heights by building a professional marketing infrastructure, positioning Hiperbaric as the global leader in the HPP industry.
"We are honored to have Anthony as part of the Hiperbaric team. Since day one, Anthony has shown initiative and dedication to move Hiperbaric forward as a company," said Roberto Peregrina, director, Hiperbaric USA. "He has immersed himself in the industry and our company, working alongside our diverse and global team. He is a true asset to our company."
"PMMI and the Emerging Leaders Committee are excited to honor these young professionals for their extraordinary leadership qualities in the packaging and processing industry," said Jackie Sessler, North America marketing director of BEUMER Group and chair of the PMMI Emerging Leaders Committee. "Their efforts continue to make an impact on the future of our industry. On the Rise Awards provide these rising stars with an opportunity to further their professional development in packaging and processing, meet others in the industry and learn more about PMMI."
Award winners were honored at PMMI's Annual Meeting on Nov. 9 in Detroit and will be featured in the winter issue of OEM Magazine, the official publication of PMMI.
About Hiperbaric
Formed in 1999, Hiperbaric designs, develops, produces and markets its high pressure processing equipment internationally. The company is recognized for its trust, customer support, teamwork and continuous R&D efforts.
Hiperbaric has installed more than 300 machines in more than 40 countries across five continents, making the company the global leader in HPP technology with the most reliable and economic machines on the market. Hundreds of companies worldwide use Hiperbaric equipment to process juices and other beverages, meat, seafood, fruits and vegetables, dairy, dips and sauces, ready-to-eat meals and pet food.
With headquarters in Burgos, Spain, a U.S. office in Miami, and commercial and technical offices in Mexico, Asia and Oceania, Hiperbaric continues to explore HPP technology with new applications in different industrial sectors. For more information, visit http://www.hiperbaric.com.