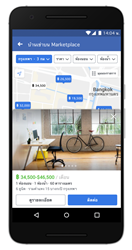 BANGKOK (PRWEB) October 11, 2018
Marketplace provides a tailored experience in the rentals category, including custom filters to search for things like the location, price, number of bedrooms/bathrooms, rental type, square metres, pet-friendly homes, and other helpful insights. Once a prospective renter finds a property they're interested in, they fill in a simple contact form and the landlord or agent will contact them directly. All advertisers listing rental properties on Hipflat, using either a free or a premium account, can get their listings automatically published to Marketplace. This can provide more exposure for their listings and brands and generate additional leads.
Integration with Facebook Marketplace expands Hipflat's product line, designed to connect its advertisers with home renters on Facebook. Another tool, launched by Hipflat last year, allows owners and agents to start a fully automated Facebook Ads campaign in a few clicks, right from their Hipflat dashboard.
About Hipflat
Launched in 2013, Hipflat is registered in Singapore with operational headquarters in Bangkok, Thailand. Hipflat operates one of Thailand's leading online real estate marketplaces, connecting property buyers/tenants (residential, commercial, and industrial) with sellers/landlords; i.e., individuals, brokers, and developers.
Hipflat currently features 340,000 listings from 40,000 agents, owners, landlords, and property managers, with 55% of them being rentals and 45% homes for sale. Over the past 12 months, home buyers and renters collectively spent more than one million hours browsing property listings on Hipflat and viewed 3.7 million web-pages monthly.
The company is backed by well-known international VCs and business angels, including 500 Startups and Japanese companies OPT and Aucfan.
For further inquiries please contact:
Denis Nemtsev, Founder & CEO of Hipflat: denis@hipflat.com