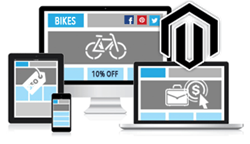 Hiring a professional Chicago Magento developer makes all the difference!
Chicago, IL (PRWEB) June 03, 2014
Sales Secret LLC, an adept Chicago Magento developer company, is pleased to offer its clients an indispensable tool to help merchants sell tickets online for contests, conferences, seminars & training courses, or any other events. With the help of the Event Ticket extension, event organizers can set up auto-reminder and confirmation emails and be always in touch with customers. Reaching event participants instantly is made easy by sending messages from the admin panel.
The Event Ticket module allows event organizers to send PDF tickets with auto-generated QR codes. A customer can print a ticket or scan QR code to get more details about the upcoming event. When administrators scan QR code, a ticket is recognized as redeemed and customers can go through the event. This module also provides an ability to redeem tickets massively from the backend or separately using predefined ticket code.
Added Features Manageable with Magento Include:

Organize event & ticket management system on a Magento website
Adult/child, male/female or any other ticket types
Stay in touch with event participants via automatic email notifications
Send printable tickets with auto-generated QR codes
Display customer's events in My Account area
Flexible tickets redeeming system
Manage event attendees
Analyze results of an event
"Through planning, efficient coding, relentless implementation, and data analysis, we have been changing the face of e-marketing," stated Robert Hadland, Sales Secret LLC representative. "Now with this Event Ticket booking and redemption extension, the game has been taken to an entirely different level – customers and retailers completing smoother transactions that exceed both of their expectations."
Sales Secret offers their prospective customers six ways to "ignite" their sales:
Segment marketing efforts
Optimize for mobile engagement
Build relationships with customers
Localize whenever possible
Act on analytics and available metrics
Cultivate useful loyalty programs
Utilizing tools such as Magento e-commerce website development, custom Magento extension development, and SEO, Sales Secret has been serving their customers' marketing and development needs to increase their sales and profitability.
For more information, visit http://www.salessecret.com/cook-county-illinois/chicago-magento-developer.html or call 888 553-9113.