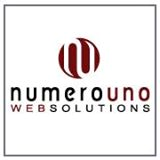 We are excited to welcome Ara Libarian to Numero Uno Web Solutions.
Toronto, Canada (PRWEB) November 19, 2014
Numero Uno Web Solutions (http://www.NumeroUnoWeb.com), a fast-growing Internet marketing firm that caters to small- and mid-sized business-to-business (B2B) and business-to-consumer (B2C) companies, is pleased to announce the recent appointment of Ara Libarian to the role of general manager of sales.
In this capacity, Libarian will use his extensive background in sales, marketing, and communication to guide the Numero Uno Web Solutions sales team, develop new initiatives, and create innovative means of growth.
"We are excited to welcome Ara Libarian to Numero Uno Web Solutions," says Adrian Newman, director of Numero Uno Web Solutions. "He brings a wealth of knowledge and experience to Numero Uno Web Solutions and we know his industry background will support our mission to get clients more qualified web traffic to grow their business."
Libarian's years of experience and proven track record of leadership and sales development encompasses an extensive background in the communications, finance, software, and online advertising sectors. He received his bachelor of arts in English literature and theory from York University.
As a result of his technical, business, marketing, and hands-on sales experience, Libarian quickly worked his way from inside and outside sales to a number of upper managerial positions. In these capacities, Libarian recruited, coached, and mentored award-winning sales teams, as well as developed and grew business partnerships. Under this guidance, his teams increased their client base, surpassed monthly and year-to-date sales quotas, posted record revenue, and significantly increased client retention rates.
"It is a privilege to be appointed general manager of sales of Numero Uno Web Solutions; one of the top online marketing firms in Canada," Libarian says regarding his appointment. "I also look forward to working with a talented sales team, growing the business, and developing relationships with both current and new customers."
To find out how Numero Uno Web Solutions can help maximize a company's search engine optimization and online presence, visit http://numerounoweb.com/sitescore/ or call Numero Uno Web Solutions toll-free at 1-855-SEO-XPRT (1-855-736-9778).