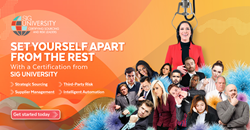 A career in sourcing, procurement and supply chain management offers exceptional growth opportunities, pays well and is a job that can be done remotely.
JACKSONVILLE, Fla. (PRWEB) July 31, 2020
In July, jobless claims rose for the first time since March, but recruitment for talent in procurement and supply chain is on the rise. With one in five Americans unemployed, many are looking to expand their expertise or learn an entirely new skillset. Certification programs are a cost-effective alternative to lengthy degree programs, especially in an economic recession.
An area that has seen an uptick in hiring amid record unemployment are jobs in sourcing, procurement and supply chain management, but the skill sets required for these positions are now more specialized than they were pre-COVID-19.
SIG University, a leader in online certification programs for sourcing, procurement, supply chain and risk professionals, was developed by Sourcing Industry Group (SIG) to directly address this talent gap that employers are urgently seeking to fill.
"Workforce education and industry certifications are essential to getting the economy back on track and making our supply chains more resilient," said SIG CEO and President Dawn Tiura. "Employers not only value industry-specific certifications, but a career in sourcing, procurement and supply chain management offers exceptional growth opportunities, pays well and is a job that can be done remotely."
The advanced training programs benefit experienced professionals with comprehensive training on new industry best practices and discussion forums to connect with other practitioners. For those who are new to the industry, the certifications help secure job opportunities in what is sure to become a competitive job market.
Each certification program creates a common language among procurement teams that breaks down silos, improves business outcomes and fortifies compliance. The certification programs are delivered entirely online, so students have the flexibility to balance work and home life with their studies. Depending on the area of study, certification programs can be completed in five, six, 10 or 12 weeks.
SIG was recently approved by the National Association of State Boards of Accountancy (NASBA) on the National Registry of CPE Sponsors. CPAs and equivalent designations who enroll in the CPE-track of SIG University's Certified Third Party Risk Management Professional program can receive 66 CPE credits upon graduation.
SIG University faculty members are subject-matter experts and senior practitioners who bring first-hand experience with sourcing and risk events to life in the virtual classroom. A unique aspect of SIG University's learning model is weekly discussion forums, where students and faculty discuss the week's lessons and real-world applications. These discussions solidify learning outcomes and provide a professional network to engage with industry peers.
Closed cohorts are available for groups and discounts are available for companies enrolling teams. Visit the SIG University website for a complete listing of all certification programs and the detailed curriculum guide.
About SIG University  
SIG University is the premier training and certification program for sourcing, outsourcing and risk professionals looking to enhance their practical experience with the latest industry education. SIG University was founded on the ideals of elevating sourcing and risk professionals to deliver strategic value to the corporation. SIG University is an inclusive, internationally recognized university with a mission of advancing the sourcing and risk management industries and transforming careers.  
About SIG  
SIG, https://sig.org/ is a membership organization that provides thought leadership and networking opportunities to executives in sourcing, procurement and outsourcing from Fortune 500 and Global 1000 companies and the advisors who serve them. SIG is widely known as a forum for sharing "next" practices and thought leadership through live and virtual networking events, training and a comprehensive online SIG resource center (SRC), which was developed by and for professionals in sourcing and outsourcing. The organization is unique in that it blends practitioners, service providers and advisory firms in a non-commercial environment. SIG is also the parent organization for SIG University, a one-of-a-kind certification and training program for professionals and executives seeking deep expertise in sourcing and governance for themselves or their teams, as well as Future of Sourcing, which provides unrivaled digital content for the opinion-formers and decision-makers at the heart of the outsourcing space.