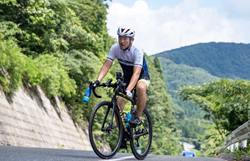 I want to be someone who could inspire courage and motivation to people around the world, and to give hope to those who seek to conquer their goals as I do
TORRANCE, Calif. (PRWEB) September 19, 2018
Sun Chlorella Co., Ltd. (Headquarters: Kyoto City, Shimogyo Ward, President: Futoshi Nakayama) sponsors Hiroki Nagaseki, a 28-year-old endurance bicycle road racer, who is challenging Guinness World Records for fastest cycling, across five continents around the world. He recently took on the Japan cycling challenge (completed July 26th, 2018), in which he cycled approximately 2,700 km in 8 days from Soya Cape in Hokkaido, the northernmost tip of Japan, to Capa Sata in Kagoshima Prefecture, the southernmost tip of Japan. He broke the Guinness World Record for the challenge in Japan, and is currently applying for Guinness World Records. Now, he takes on breaking the Guinness World Record for fastest cycle across the United States.
The existing Guinness World Record for this challenge is 40 days; Nagaseki aims to cut this in half. The United States challenge consists of two parts: north to south, and west to east. Starting September 20th, Nagaseki will cycle approximately 2,600 km from Sumas, Washington (near the Canadian border) to Chula Vista, California (near the Mexican border). Soon thereafter, he will begin the second part of his challenge, cycling approximately 4,500 km from Los Angeles City Hall to New York City Hall. He aims to complete the first part of the challenge within 8 days and the second part in under 15 days. By the end, Nagaseki will have cycled over 7,100 km. "I want to be someone who could inspire courage and motivation to people around the world, and to give hope to those who seek to conquer their goals as I do," says Nagaseki, when asked to comment on how he got started.
About Hiroki Nagaseki
Born in Hokkaido, Japan, Nagaseki graduated from Otaru University of Commerce in Japan. Though he started off with a desk job at a major IT firm in Tokyo, Japan, he wondered if he could do more with his life. Through countless support from his friends, family, and strangers, he decided to take on the challenge of breaking Guinness World Records for fastest cycle, across five continents around the world. http://www.sakigake-project.net
Support by Sun Chlorella
Sun Chlorella Co., Ltd. will sponsor Nagaseki through all five continent challenges. As a company who strives to spread health and wellness through its health supplements, Sun Chlorella believes that Hiroki Nagaseki's mission closely aligns with theirs, as one of its products, Sun Chlorella Powder, was recently NSF Certified For Sport. Sun Chlorella Powder is currently used by MLB (Major League Baseball) and NHL (National Hockey League) teams in the United States, for its benefit toward athletes and fitness enthusiasts.
About Sun Chlorella Corp.
Sun Chlorella Corp. has been the premium chlorella company for over 45 years. The company has always been diligently focused on making a positive difference in the health of people across the globe. Sun Chlorella uses the DYNO-Mill process to pulverize the outer cell wall of their chlorella for ultimate quality, bioavailability and digestibility. You can find Sun Chlorella products at The Vitamin Shoppe, Whole Foods Market, Sprouts Farmer's Market, and many other health food retailers. For more information regarding Sun Chlorella products, please visit: http://www.sunchlorellausa.com (US) or https://www.sunchlorella.co.jp (Japan).
Media Contact
Aiko Jin
ajin(at)sunchlorellausa.com
1 (310) 891-0600 Ext 2118
###