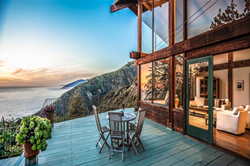 Where Real Estate Is Never Boring
POMPANO BEACH, Fla. (PRWEB) May 21, 2019
"Former Gold Mine - Now Big Sur Home"
A 33-acre, cliffside home in Big Sur, California with postcard coastal views is located on a former gold mine that was in use until 1960, and the mine is still accessible. The original miners' quarters have been preserved and repurposed as the current kitchen, bringing the history of the site close and tangible. Just 60 miles south of Carmel, the property is for sale at $2.25 million.
When gold was discovered in the 1880s, Big Sur was already well known for its natural beauty but was extremely remote and transportation was treacherous. Access was only by horse or foot and the state was slow to provide funds for expensive and dangerous road construction where few people lived. It wasn't until 1919 that approval was finally given to build Route 1 along the Big Sur coastal area. Since regular laborers refused to work in such a dangerous environment, prisoners were used and prison camps set up in various locations to work on the road and later to build bridges. Even after the road was completed in 1937, heavy rains would bring landslides causing the road to be closed for weeks or months at a time. Anticipating the arrival of new people, some of the original Big Sur families donated or sold thousands of acres to the state for park land in order to restrict development that would destroy the coastline's natural beauty. Today, most of Big Sur belongs to the state or federal government and strict regulations make new construction difficult.
Bringing to mind the exquisite scenery in the 1965 film "The Sandpiper" that was filmed in Big Sur, the 2,467-square-foot home jutting out over a cliff facing the Pacific Ocean has huge scenic views surrounded by virgin forest, a natural waterfall and the shaft to the actual mine representing nature and pioneer history. Designed to maximize ocean, coastal and woodland views, the main part of the three-bedroom, two-bath home is filled with light from ceiling-to-floor windows and incorporated the original miners' cabin as the home's spacious kitchen. The kitchen also has its share of glass with views penetrating into the forest. Outside are expansive decks for dining and sunset viewing with a well-placed hot tub. Up the hill is a separate one-bedroom, one-bath guest house. Redwood beams in the home were sourced and milled from the land and the entire property is off grid with solar system and natural spring water.
Big Sur has attracted writers including Jack Kerouac, Henry Miller and Hunter Thompson, photographer Ansel Adams and musicians Al Jardine and Trent Reznor. The home is priced at $2.25 million; co-listing agents are Dana Bambace, Mark Peterson and Melissa Radowicz of Compass Realty, Carmel-By-The-Sea, California.
Visit TopTenRealEstateDeals.com for more historic, spectacular and celebrity homes and real estate news.