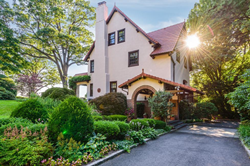 Where Real Estate Is Never Boring!
POMPANO BEACH, Fla. (PRWEB) March 26, 2019
"John Philip Sousa's Long Island Home"
The legacy of patriot musician John Philip Sousa, who died in 1932, is indelible to the fabric of the United States. Sousa, referred to as the American March King, known for 'Stars and Stripes Forever,' 'Semper Fidelis' and 'The Liberty Bell' may not be with us any longer, but his spirit and songs live on, as does his former home, Wildbank, in Sands Point, Long Island. Sousa, the conductor of The President's Own Band under five American presidents (Hayes through Harrison), purchased the house in 1915 and lived there until his death at age 77 in 1932. Sousa's home, listed on the National Register, is now for sale priced at $9.45 million.
Perched on a rise above Long Island Sound with views westward to the New York City skyline, the house with its almost fairy-tale front facade, is nestled behind its gated entry in a cushion of mature professional landscaping with sun-dappled lawns leading to the beach and its long deep-water pier. Built in 1907 by the architect and first owner, A.B. Trowbridge, the 6,000-square-foot home has been sympathetically decorated to its period in fine detail, including hand-painted Zuber scenic American wallpaper similar to that selected by Jackie Kennedy for the Oval Office reception room at the White House.
Sited on 2.6 acres, the main house includes six bedrooms, six baths, large formal rooms and bedrooms in keeping with the period. The kitchen is designed for serious cooks including their guests and family to share a glass of wine or take part in the preparation. There is also a study, workout room and two wine cellars on the property. The four-car garage houses a sophisticated two-bedroom guest apartment with marble-countered kitchen and fine finishes throughout. Also part of the garage is a potting shed, the second of two wine cellars and a tack room used by Sousa who housed his prize-winning horse there. Separate backup generators are installed for the main house and the guest apartment.
The rear of the house has been designed around the views with a decked balcony that runs the length of the house and below with a covered terrace. Near the beach in the rear garden are waterside seating and dining terraces surrounded by perennial beds. Steps lead down to the sandy beach and a long deep-water pier. A tennis court is tucked away behind foliage across from the front entry drive.
The waterfront home of John Philip Sousa and a well-earned place on the National Register is now for sale at $9.45 million. The listing agent is Maggie Keats of Douglas Elliman Real Estate, Port Washington, New York.
Visit TopTenRealEstateDeals.com for more historic, spectacular and celebrity homes and real estate news.