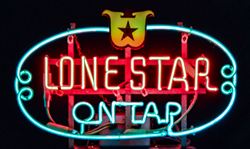 Bidders will be treated to a massive treasure trove of Austin music memorabilia.
AUSTIN (PRWEB) June 18, 2020
87 years of Austin music history has come to an end with the closing of the historic Threadgill's restaurant located at 6416 North Lamar, Austin Texas. The massive collection of Austin music memorabilia, vintage Texas beer signs, and Janis Joplin items are heading to the auction block Saturday, June 27th starting at 10:00 a.m. at Threadgill's, 6416 N Lamar Blvd, Austin, TX 78752.
Burley Auction will be selling over 500 lots from the historic Threadgill's restaurant and from Eddie and Sandra Wilson's private collection of Armadillo World Headquarters and Austin music memorabilia. Those unable to attend can bid live through an online catalog available at BurleyAuction.com. Phone and absentee bidding are also available by calling 830-629-9280 in advance to pre-register. Auction item preview times are Thursday, June 25th and Friday, June 26th, Noon-6:00 p.m., and Saturday, June 27th, at 8:00 a.m. until the 10:00 a.m. auction start.
When Kenneth Threadgill opened his Gulf filling station just north of the Austin city limits in 1933, he had more on his mind than just pumping gas. He had stood in line all night to be the first person in Austin with a beer license after the repeal of prohibition. Soon after opening his joint in 1933, it became a favorite for traveling musicians interested in grabbing a drink after their gigs. The quintessential beer joint continued to flourish into the sixties and changed with the social climate of the era by inviting the folkies, hippies and beatniks to his Wednesday night singing sessions with open arms.
Threadgill's love for people and music smoothed out the conflicts that usually occurred when longhairs crossed paths with rednecks, and because of this, a new culture tolerance emanated from the tavern, which had a profound effect upon its patrons and the music made there. It was here that Janis Joplin developed her brassy style that would propel her to become the first female rock-and-roll superstar. According to Eddie Wilson, "No one would have said 'Keep Austin Weird' if Threadgill's hadn't made it weird in the first place."
After nearly succumbing to the wrecking ball, the original Threadgill's site was saved by legendary Austin City Councilman Lowell Lebermann, Jr., and purchased by Eddie Wilson, owner of the Armadillo World Headquarters. Wilson's idea was to make Threadgill's a Southern-style restaurant, based on the success of the menu offered at his Armadillo kitchen. The Armadillo closed on New Year's Eve 1980, and on New Year's Eve 1981, Threadgill's opened as a restaurant. It was an instant success, serving Southern comfort food and live music 365 days a year until closing permanently in March 2020 due to the COVID-19 pandemic. (Source: Threadgills.com/history)
Bidders will be treated to a massive treasure trove of Austin music memorabilia – from original Janis Joplin photographs, to Kenneth Threadgill's Platinum Honeysuckle Rose album presented to him for his work with Willie Nelson.
Other indelible nostalgic touchpoints include the original back bar from when Kenneth opened in 1933, Eddie and Sandra Wilson's collection of vintage Texas beer signs, a world class collection of Armadillo World Headquarters and Vulcan Gas Co. concert posters by artists Jim Franklin, Gilbert Shelton, Danny Garrett, Sam Yeates, Michael Priest, and the rest of the "Armadillo Art Squad," as well as early neon Texas beer signs, porcelain gas and oil signs, a 50-year collection of artwork, decor, and restaurant equipment from the Armadillo and Threadgill's.
According to auctioneer Robb Burley: "The first auction we did for Eddie turned out so well that he put us in the last chapter of his memoir. The Threadgill's south location auction in 2018 had an even larger response. This is the last one, the original location with Janis Joplin history, and we are honored to still be a part of it."
Seating at the live event is limited. Robb Burley TX#15184 15% Buyers Premium.
About Burley Auction Gallery
Robb Burley started Burley Auction Gallery in 2004 in New Braunfels Texas, growing it to become a nationally recognized auction house, specializing in Texana and historic Western Americana. Burley Auction Gallery has produced many well-known auctions, such as the final auction of the Roy Rogers museum collection, Texas Ranger Captain and U.S. Marshal Jack Dean's gun collection, the auction of an entire Texas ghost town the was the subject of a PBS documentary "The Grove Texas," Austin's Threadgill's restaurant, and Eddie Wilson's Armadillo World Headquarters memorabilia collection. Burley Auction Gallery is your nationally recognized, hometown auction house.