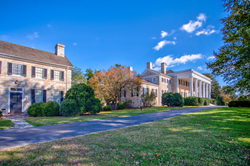 Go to kellysellsloudoun.com for more information on Carter Hall.
ALEXANDRIA, Va. (PRWEB) December 11, 2018
Berkshire Hathaway HomeServices PenFed Realty, an HSF Affiliates company, today announced that Carter Hall, an historic estate in Clarke County, Va., is available for sale for the first time in 40 years.
Located in Millwood, Virginia, the property sits on 87 acres of century-old trees and landscaped gardens, surrounded by stacked stone walls. The main building on the estate, a four-bedroom limestone manor house with sweeping views of the Shenandoah valley, was built around 1797 by Lt. Col Nathaniel Burwell. The house is flanked by two charming guest houses that served as kitchen and school house for the property, plus ten other structures that include a fully-intact greenhouse and several early wooden outbuildings.
Currently in use by the non-profit organization Project HOPE as their headquarters since 1978, it also serves as a meeting and conference center for corporate and private events, with a capacity for up to 42 overnight guests.
"Carter Hall is one of the most historic properties in the state of Virginia" said listing agent Kelly Gaitten. "The estate may return to its heritage as a personal residence. But given the size of the property and the facilities available, there are many potential uses that may be attractive to companies and other organizations."
Listed in the National Register of Historic Places, Carter Hall was once used as the headquarters of Gen. Stonewall Jackson duing the Civil War and was the subject of the painting "Shenandoah Autumn" by Mort Kunstler. It was also the childhood home of Rachel "Bunny" Lambert Mellon, wife of banking heir and art collector Paul Mellon. In the 1930s, the manor house received a major update by world-renowned architect Harrie T. Lindberg, and a portico was added by Dr. William Thornton, chief architect of the U.S. Capitol building.
"Carter Hall has been an important part of Project HOPE's history, but as the international NGO sector continues to evolve and change, we believe that strategically, we need to bring the organization to a more competitive position, while increasing our focus on global health and disaster response," said Dr. Tom Kenyon, CEO and Chief Medical Officer at Project HOPE. "As such, we have made the decision to relocate our headquarters to a site closer to Washington, D.C. in order to position us in the epicenter of the dynamic, international non-profit sector."
Listed at $12 million, the property is located in Clarke County, Virginia and is zoned for residential use. It is currently operated as a conference center by special exception zoning.
About Berkshire Hathaway HomeServices PenFed Realty
Berkshire Hathaway HomeServices PenFed Realty (http://www.penfedrealty.com) is a full-service real estate company with an annual sales volume of almost $5 billion. The company has 1,800 agents and more than 50 offices, providing complete real estate services nationwide. PenFed Realty is a wholly-owned subsidiary of PenFed Credit Union and is a member of the Berkshire Hathaway HomeServices brokerage network, operated by HSF Affiliates LLC. We are proud to be an equal employment opportunity employer. Equal Housing Opportunity.
About Project HOPE
Founded in 1958, Project HOPE is a leader in global health development and emergency relief programs. An international nonprofit organization, we save lives and improve health, especially among women and children. We accomplish our mission by improving the knowledge, abilities and tools of the local health workforce to deliver high-quality services to communities in need. With programs in more than 25 countries, we work at the epicenter of today's greatest health challenges including infectious and noncommunicable disease; disasters and health crises; maternal, neonatal, and child health; and the policies that impact how health care is delivered. Learn more at http://www.projecthope.org and follow us on Twitter @projecthopeorg.