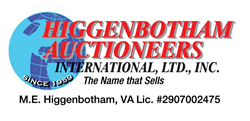 This is an outstanding opportunity to own a truly remarkable, historic building just a half-block from the State Capitol
MULBERRY, Fla. (PRWEB) August 11, 2020
Higgenbotham Auctioneers International is presenting a terrific opportunity to own a one-of-a-kind historical office building and events center. The sale will take place on-site September 2nd at 11:00 AM at 420 SW 9th Street, Topeka, KS 66612, with online/app bidding and phone bidding available with preregistration. Previews of the property will be held on Wednesday, August 26th from 10:00 AM – 2:00 PM and Wednesday, September 2nd from 9:00 AM – 11:00 AM.
The 3-story brick-faced building contains approximately 27,507 square feet on a 23,845 square foot parcel and is zoned O&I-2, office and institutional district. Designed by renowned architect Frank C. Squires, the building was designed in the Free Eclectic style of the 1920's. The building has been very well-maintained with newer mechanical, plumbing, and electrical systems as well as dual-pane windows for energy efficiency except for the beautiful stained-glass windows. The building is on the National Historic Register as well as State and Local Historic Registers. Its most recent use was as an office building with drop ceilings, movable partitions, and cubicles, much of which remain in the building. All personal property, including movable partitions and office cubicles will be conveyed to the new owner and included in the purchase price of the building.
The sale is subject to the State of Kansas approval.
"This is an outstanding opportunity to own a truly remarkable, historic building just a half-block from the State Capitol" stated Marty Higgenbotham, President for HAI.
Please visit the website at http://www.StateofKSAuction.com for complete preview information, property list, photos, and information.
About the Company | Founded in 1959, Higgenbotham Auctioneers International (HAI) utilizes the auction method of marketing to sell real estate throughout the United States and the world. Higgenbotham's success is attributed to the company's stellar track record in marketing unique properties and the firm enjoys continuing relationships with Fortune 500 clients such as Alcoa, Wal-Mart and Albertson's Supermarkets, as well as many publicly-traded and closely-held companies. For more information, please visit http://www.higgenbotham.com.