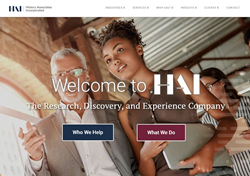 HAI is adept at proactively reading our target markets, and we're continually raising the level of the value we deliver. We are agile, imaginative, and we respond to our clients' needs for solutions quickly and effectively.
ROCKVILLE, Md. (PRWEB) March 03, 2020
History Associates Incorporated (HAI) - the leading professional services firm delivering litigation research, content and digital storytelling, archives and information management, and cultural heritage solutions - launches a new brand and strategic partnership with Houselore, setting the stage for accelerated growth.
Since HAI's 2019 announcement of Beth Maser as the company President, HAI defined a focused go-to-market plan that builds on its strengths in litigation and research, cultural heritage, and archives and information management. With an impressive client roster, HAI aims to deepen relationships and add increased value to its customer base through expanded service offerings. HAI is also positioning its services portfolio to address the significant challenges both current and new clients are facing, including digitization in government, innovating experiences through virtual and augmented reality for associations and institutions, and preserving heritage for commercial and other segments. HAI's leading litigation research capabilities are a cornerstone of the continued and growing relationships in the legal sector.
"HAI is in growth mode. We are essentially a mature 40-year-old company that has pivoted to act like a start-up. However, we still deliver the superior solutions and deliverables clients expect from us," said Beth Maser, President.
HAI's growth strategy also includes solution innovation and channel expansion through strategic hires like Charleston's Houselore Founder, Alexandra Jones. Jones is integrating her capabilities into HAI to offer distinct services such as historic property research, adaptive reuse consultation, and historical research for AR/VR development.
Jones stated, "I am thrilled to be joining a well-respected and successful firm like HAI, and I am looking forward to expanding the network of services that we offer to an international audience. We will be looking to the future as we pursue partnerships and projects in the AR/VR space as technologies evolve to make history more engaging for audiences everywhere."
Central to HAI's growth focus is a newly defined brand identity reflected by the change in name and an enhanced global website. Positioning as "The Research, Discovery, and Experience Company," HAI has a bright new chapter ahead.
About HAI
For more than 35 years, History Associates Incorporated has helped clients to bring knowledge forward – use the past to inform the present and prepare for the future. The company's historians and archivists research and write histories, create educational experiences, preserve and manage historical content, and conduct specialized historical research for corporations, government agencies, law firms, and nonprofit organizations worldwide. For more information, call (301) 279-9697 or http://www.historyassociates.com.
About Houselore
We preserve the past to inform the future. We achieve this by telling the undiscovered stories of historic places and improving human well-being by connecting people with their past and their cultural heritage. For more information, visit http://www.houselore.com.