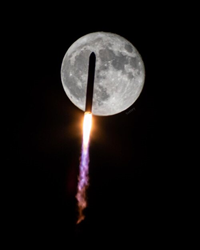 "This is the first time that both natural, unmodified Earth soils or engineered, biologically active, biochar-containing soils such as bio365's have been brought to space." — Morgan Irons, Cornell University, Soil and Crop Sciences
ITHACA, N.Y. (PRWEB) December 05, 2020
In an effort to test how productive different types of soil might be in space, a team of research partners, including bio365 LLC, a California-based company focusing on agricultural technology, is managing a first-of-its-kind experiment taking place on the International Space Station (ISS). The experiment has the potential to not only prove which types of growing media work best in unique environments, but also to provide vital scientific data on ways soil can improve crop health on Earth.
The project is led by Morgan Irons, a research fellow at Norfolk Institute in Virginia, Cornell University, where Ms. Irons is in the graduate program under the guidance of Johannes Lehman, PhD, a professor of soil and crop sciences; the Zwillenberg-Tietz Foundation in Germany; and bio365. The soil samples were launched via a Northrup-Grumman Antares rocket and Cygnus cargo module on October 2, 2020, and the samples will remain on the ISS until December 2020.
The samples consist of two topsoil samples taken from land in New York and Germany, plus a sample of bio365's BIOALL, an engineered, biochar-based soil designed for Controlled Environment Agriculture. Each sample was specifically chosen based on its distinct properties. Irons explains that, "This is the first time that both natural, unmodified Earth soils and engineered, biologically active, biochar-containing soils, such as bio365's, have been brought to space. The biochar that bio365 uses is especially interesting due to its long-term and efficient nutrient delivery, which has been an open research question for scientists performing space agriculture experiments. This experiment is a prime opportunity for space scientists to learn from Earth horticulturalists and soil scientists."
Once the soil samples return to Earth, researchers in the U.S. and Germany will evaluate the samples, including comparing the soil to parallel samples that remained on Earth. The research team hopes that the contrast between the soils will provide valuable insight into how biological, physical, and chemical processes change over time and in different conditions. The results should offer new insight into how to further fine-tune soils for different growing conditions and differing crops, eventually leading to new techniques for growing higher-yielding, more nutritious foods on Earth and in space.
The team was brought together by Irons and Johannes Lehman, PhD and professor of soil and crop sciences at Cornell University. John Gaunt, PhD, the current chief science officer of bio365, is a former adjunct professor at Cornell and long-time scientific collaborator with Professor Lehman, who also sits on bio365's scientific advisory board. The research project was approved by the Center for the Advancement of Science in Space (CASIS), which manages the International Space Station U.S. Lab, and by NASA, which is the overseeing agency responsible for all launches to the ISS.
Gaunt is particularly enthusiastic about the mission, saying, "This is a rare honor, and we are grateful for our small contribution to this important project. I especially want to congratulate the Norfolk Institute and Morgan Irons; it is difficult, time-consuming, and heavily scrutinized to get a project of this magnitude accepted by CASIS, the ISS, and approved by NASA. This project was chosen because of its ground-breaking nature as the first ever such soils studied in space, because of its dual implications for both future space living and practical implications here on Earth, and most of all because Morgan Irons and the Norfolk Institute are passionate and tireless advocates for advancing the science of human resilience. We are delighted they chose bio365 as the first and only commercially made, engineered soil to ever go into space."
If humans are to live successfully on other planets in the future, even in enclosed bases, they'll need the ability to grow their own food. That takes healthy soil which provides the right amount of nutrients and drainage for the crops in question. However, the effects of being in space, different gravity, and different radiation exposure, among other issues, could affect soil in unknown ways. It's the goal of this project to start identifying which soil types might be better choices for interplanetary agriculture and to see how those results might change how we manage crops here on Earth.
Olivia Holzhaus, of the Program Science Office of the International Space Station, elaborates, "Soil health is inextricably linked to agricultural health and is crucial to producing nutritious food that promotes environmental and human health on Earth and in space. Recent shifts in soil management towards more sustainable practices promote the use of healthy living soils: those in which soil microbes and fauna actively participate to increase soil health. Such agricultural practices have been shown to reduce input costs, increase system productivity, and increase carbon sequestration in the soil. Obtaining knowledge that improves the efficiency and resiliency of soil is considered necessary for deploying such technologies to enable space exploration and enhance agricultural health on Earth."
bio365 Chief Executive Officer Michael Klein is enthusiastic about the chance to participate in such an essential study. "Though bio365 already makes a line of proven, high-performing soils, we are grateful for this unique opportunity to collaborate with some of the best scientific minds, working together towards our goal of producing organic indoor crops sustainable for our world and worlds to come," he says.
bio365 soils have received endorsements from the most prestigious commercial-scale controlled environment cultivators growing food and medicine across the United States, supplying soil to some of the largest and best-known independent and multi-state operators (MSOs).
Additional information about the experiment can be found on NASA's Website here.
If you are interested in learning more about bio365, visit our website here.
Contact Information:
Company: bio365
Contact Person: Chris Moralle
Email: Chris.moralle@bio365.com
Location : Ithaca NY, USA
Website:https://www.bio365.com/