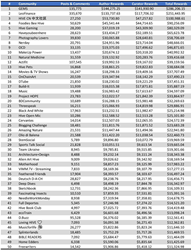 I'm so happy that I can use social media without fear of censorship while be rewarded just for using the platform like I used to use Facebook.
NEW YORK (PRWEB) June 09, 2021
Since the start of the year 2021 till today "Hive" has paid out a total of $2,820,118.92 in rewards to content creators and curators.
Upvotes (likes) on Hive carry monetary value that is distributed 50/50 between those that create content and are "upvoted" and those that "upvote" content.
In the same time period $2,395,144,06 was paid out to all posts and comments within various "Hive communities" that resemble "subreddits" on Reddit. Those numbers show strong engagement and participation while showcasing "new tech" social media solutions. Querying the blockchain, a list of top 50 Hive communities has been compiled below, ranking them based on total payouts for authors and curators (upvoters).
"I'm so happy that I can use social media without fear of censorship and still be rewarded just for using the platform like I used to use Facebook." Says Damir, an ecstatic Hive user.
The communities are generally topic specific and cover topics like: Art, Gaming, Finance, Fitness blogging, Food blogging, Travel, Science, Natural Medicine, Photography.
Hive provides tools to build communities, apps, games and economies within them. Two of the powerful features of the Hive Network is its "community building" and rewarding of its participants.
Hive aims to disrupt the current dominance of "Big Tech" and platforms like Twitter, Facebook, Instagram by providing users with true account ownership, censorship resistance while at the same time giving users full control over their content and maintaining absolute political neutrality.
About Hive:
Hive is a decentralized information sharing network with an accompanying blockchain-based financial ledger built on the Delegated Proof of Stake (DPoS) protocol. Hive supports many different types of information sharing applications. A myriad of dapps, APIs and front-ends contribute to the accessibility of data on the Hive blockchain.
Hive is developed to store vast amounts of content and to make it easily available for time-based monetization. Examples of use cases include social media with monetized rewards for content producers, interactive games, identity management, polling systems, and micro-loans. The performance of the blockchain is designed to scale with widespread adoption of the currency and platforms in mind. By combining the lightning fast processing times and fee-less transactions, Hive is positioned to become one of the leading blockchain technologies used by people around the world. Connect with us on Twitter or Discord to learn more about Hive and sign up today at https://hive.io/.