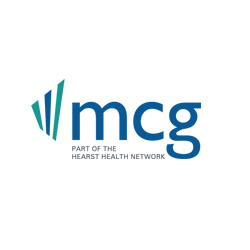 "We are excited to share the successful results of MCG, MultiCare, and Regence's first-in-the-nation prior auth automation project with other health IT innovators at ViVE." - Rajesh Godavarthi, AVP of Technology & Interoperability at MCG Health
SEATTLE (PRWEB) March 16, 2023
MCG Health, part of the Hearst Health network and an industry leader in technology-enabled, evidence-based guidance, announces its Associate Vice President of Technology and Interoperability, Rajesh Godavarthi, will co-present with Anna Taylor, MS, CIPCT, the Associate Vice President of Population Health and Value Based Care for MultiCare Connected Care, at the ViVE 2023 conference happening March 26-29, 2023, at the Music City Center in Nashville, Tennessee. ViVE is a burgeoning industry event for healthcare information technology professionals, C-suite executives, and senior digital health leaders from both the private and government sectors.
Godavarthi and Taylor's session will take place on March 28, 2023, from 11:10am - 11:40am CT in ViVE's Theater A within the InteropNow! Pavilion. The presentation will cover the real-world case study of the first successful prior auth automation implementation using the HL7 Fast Healthcare Interoperability Resources (FHIR®) standard with the HL7 Da Vinci Project implementation guides. MCG, MultiCare, and Regence launched this technology in October 2022. Subsequently, the organizations have been able to reduce provider and payer administrative burdens related to the prior authorization process. The presenters will provide an overview of the automation solutions implemented by MCG clients as well as return-on-investment (ROI) data including:

Reduced wait times for patients and providers on prior authorization requests
Improved communication between payers and providers
Increased accuracy of clinical documentation
Cost savings for both hospitals and health plans related to administrative burden
"We are excited to share the successful results of MCG, MultiCare, and Regence's first-in-the-nation prior auth automation project with other health IT innovators at ViVE," said Godavarthi. "Through our collaborative work in the HL7 Da Vinci Project, we've been able to build new technology that will impact patient lives and mark a transformative moment in healthcare history."
Anna Taylor is the Associate VP of Population Health and Value Based Care for MultiCare Connected Care (MCC). She leads the portfolio team in executing on value-based products and strategic initiatives, as well as oversees the Digital Health Ecosystem that enables the work of population health and value-based care. She has worked with MultiCare Health System for 14+ years. She holds a B.S. from the UW School of Engineering in Technical Communication and a M.S. in Clinical Informatics and Patient Centered Technology from the UW School of Nursing & Medicine.
Rajesh Godavarthi has been with MCG Health since 2002. MCG is an Associate Member of the HL7 Da Vinci Project and Mr. Godavarthi leads the development efforts for that partnership. Prior to MCG, he was the Development Lead at Milliman and a lead developer at Intel. He received his Master's in Computer Science from Osmania University. He also currently serves on the Board of Directors for WEDI (Workgroup for Electronic Data Interchange) and is a current member of the ONC's Health Information Technology Advisory Committee (HITAC).
Taylor and Godavarthi are widely recognized as experts in interoperability and prior authorization processes. Both were previously recognized by the HL7 Da Vinci Project as Community Champions of the accelerator project. Taylor was recognized in the inaugural group of HL7 Da Vinci Community Champions announced in 2021, and Godavarthi was named in 2022 as a recipient of the prestigious award.
For those interested in learning more about ViVE 2023, registration details and additional information can be found at: https://www.viveevent.com/.
###
About MultiCare Connected Care
MultiCare Connected Care (MCC) is an independent Accountable Care Organization (ACO) established in 2014 as a wholly owned subsidiary of MultiCare Health System and operates as an independent entity. It is transforming healthcare as a population health engine that represents a Clinically Integrated network (CIN) of independent & MultiCare Health System clinicians services across the entire social medical model of care. Under this entity 350,000 lives are served within 30 value based contracts.
Unlike the traditional "fee for service" health care model – where each visit, service, test and procedure has a separate cost – MCC's foundation is built first and foremost on providing patient centered quality care at an appropriate cost. Specific measures are used to determine how well doctors, hospitals and other providers are keeping healthy people healthy, effectively treating illnesses, and helping people better manage their chronic conditions. In this way, all the participating providers share the responsibility of providing patient centered, high quality, efficient, cost-effective care.
MCC has established a comprehensive Clinically Integrated Network (CIN) comprised of doctors and other health care providers, as well as hospitals, clinics and other health care services, such as imaging, labs and pharmacies. The CIN includes independent health care professionals in the community, as well as MultiCare employed providers totaling over 5,100 clinicians providing services across the continuum of care. https://www.multicareconnectedcare.com/
About MCG Health
MCG, part of the Hearst Health network, provides unbiased clinical guidance that gives healthcare organizations confidence in delivering patient-centered care. MCG's artificial intelligence and technology, infused with clinical expertise, enable its clients to prioritize and simplify their work. MCG's world-class customer service ensures that clients maximize the benefits of licensing MCG solutions – demonstrating improved clinical and financial outcomes. For more information visit http://www.mcg.com or follow our Twitter handle at @MCG_Health.
About Hearst Health
The mission of Hearst Health is to help guide the most important care moments by delivering vital information into the hands of everyone who touches a person's health journey. Care guidance from Hearst Health reaches the majority of people in the U.S. The Hearst Health network includes FDB (First Databank), Zynx Health, MCG, Homecare Homebase and MHK (formerly MedHOK). Hearst also holds a minority interest in the precision medicine and oncology analytics company M2Gen. Follow Hearst Health on Twitter @HearstHealth and LinkedIn @Hearst-Health.