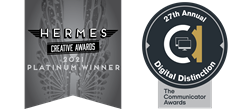 NORWOOD, MA. (PRWEB) May 25, 2021
Now for the fourth year in a row, HMI Performance Incentives has been awarded honors in creative marketing, communication, design. This year, HMI won five awards and three honorable mentions from Hermes Creative Awards and four awards from Communicator Awards.
From Hermes, two Platinum awards were given in the categories of Integrated Marketing Campaign and Blog Single Post for work with client, Pure Storage, and the article, The Ins and Outs of a Successful B2B Customer Loyalty Program. Three Gold awards were given in the categories of Design | Logo, Live or Virtual Event, and Communication/Marketing Campaign for work with client, Trulite Glass and Aluminum Solutions, the event Incentivate – Virtual, and a digital campaign titled B2B Customer Loyalty.
From Communicator Awards, four Awards of Distinction were awarded. Two of them were in the categories of Integrated Campaign for the same work with client, Pure Storage and a campaign titled Group Travel Alternatives/Regional Travel. Two of them were in the categories of Online Advertising & Marketing for an email campaign called Fuel the Dream: Travel Bracket Challenge and the same campaign as Hermes Gold winner, titled B2B Customer Loyalty.
From Hermes as well, the honorable mentions came from work with clients Manning Building Supplies for their travel brochure, and Pure Storage's VIP Program Catalog.
Brad Lipscomb, Channel Operations and Programs at Pure Storage says, "We are thrilled to see HMI recognized for their exceptional work with Pure Storage's VIP Program. The quality and creativity of HMI's marketing campaigns as well as the professionalism and service level of their organization enhances our brand and makes us proud to partner with their team."
"From concept exploration to delivery, HMI has been a great trusted advisor in the design, implementation and management of our TruRewards Platinum Travel Program. The program is intended to motivate and reward select customers for growing with Trulite Glass & Aluminum Solutions, and we're excited about expanding the program for our 2021/22 campaign. I'm proud to consider HMI a partner and our TruRewards Platinum Travel logo is perfectly in sync with our corporate brand standards and mission." Kevin Yates, CEO Trulite Glass & Aluminum Solutions.
Kiwon Chang, CEO of HMI Performance Incentives says, "We at HMI are honored to have received these awards and proud of our team. Creativity is one of our core values, and standards are high not only for our clients' programs but for our own corporate efforts as well. Each year, we strive to excel more than the last, and this year we have doubled our total creative awards, demonstrating our hard-work and dedication to excellence."
###
About HMI Performance Incentives
People are an organization's most important asset. Using data and behavior-driven methodologies, strategic design, creativity, and empathy, every company can achieve their growth and profit goals through a comprehensive incentive loyalty strategy. Founded in 1980 in Cambridge, MA, HMI Performance Incentives is a global leader in designing and managing incentive loyalty solutions.
About Pure Storage®
Pure Storage (NYSE: PSTG) gives technologists their time back. Pure delivers a modern data experience that empowers organizations to run their operations as a true, automated, storage as-a-service model seamlessly across multiple clouds. One of the fastest-growing enterprise IT companies in history, Pure helps customers put data to use while reducing the complexity and expense of managing the infrastructure behind it. And with a certified customer satisfaction score in the top one percent of B2B companies, Pure's ever-expanding list of customers are among the happiest in the world.
About Trulite: Glass and Aluminum Solutions
Trulite Glass & Aluminum Solutions is your true single source for aluminum and glass products in Division 8 of the specifications. We offer a complete line of architectural aluminum products, fabricated glass, all glass entrances, decorative glass and mirrors.
With over 26 fabrication facilities throughout the United States and Canada and delivery with our own fleet of trucks, it gives us flexibility to meet our customers' needs. We have the products, equipment, and an experienced team to take projects from design concepts with the architect, to final installation by the glazing contractor.
We are committed to making sure our customers' orders are on time, meet the project specifications
About Manning Building Supply
Since 1979, Manning Building Supplies has been in the business of supplying Florida's builders with the materials and support they need to get the job done. Now based in Jacksonville, we've grown from a single shop in Ocala to become the leading provider of high-quality building supplies and expert job support services throughout Eastern and Central Florida. With locations in Jacksonville, Ocala, Orlando, St. Augustine, Ft. Pierce, Lakeland, and Palm Beach, Manning Building Supplies has the staff and facilities to provide our customers with the best products and the highest level of service available.