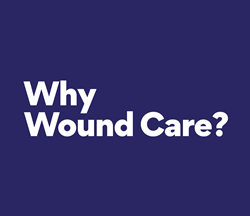 This is an incredible value added at no cost for students, practicing physical therapists, and physical therapy programs looking to augment existing curricula.
MALVERN, Pa. (PRWEB) July 08, 2020
In an effort to further prepare physical therapy students and clinicians about the proper management and treatment of patients with wounds, HMP Global, a leading healthcare events and education company, today announced the launch of a new web portal designed for physical therapy students as part of its Why Wound Care? (WWC) initiative.
The WWC initiative works to inform physical therapy, medical, and nursing students; recent graduates; faculty; and practicing clinicians about rewarding careers in wound care, and offers educational resources to supplement current academic curriculum, where wound care education may be limited.
With the development of the new portal, physical therapy students and faculty now have access to the following complimentary evidence-based wound care resources:

Over 25 video modules covering the fundamentals of wound care, with a number presented by physical therapists, including: Basic Wound Management, Biophysical Energies in Wound Healing – Part One: Electric and Sound & Part Two: Light and Pressure, Edema & Lymphedema, Negative Pressure Wound Therapy, Basics of Burn Rehabilitation, and more
Downloadable PDFs of all 25 chapters of Chronic Wound Care: The Essentials e-Book, the "gold standard" of wound care textbooks
Information about other continuing education resources, including wound care conferences and medical journals
Virtual Wound Rounds (VWR) developed and hosted by Frank Aviles for physical therapy students who were unable to participate in wound rotations due to the COVID-19 pandemic this semester. VWR topic presentations include: Virtual Wound Clinic, Challenging Lower Extremity Wounds, Pressure Injuries, Wound Dressing Debate, and more
"The addition of the new physical therapy student portal continues the growth of our Why Wound Care? initiative," said Peter Norris, Senior Vice President, HMP Global. "First we introduced WWC to nursing students, then medical students, and next practicing clinicians, with the portal becoming a go-to source of free wound care content, with thousands of vistors accessing modules and other materials. With the newest addition of the physical therapy student portal, we now have provided practical wound care educational resources that can augment teaching curricula or be utilized for independent study."
The WWC physical therapy student advisory board—comprised of 11 world-class wound care educators teaching at top physical therapy schools—contributed to the development of the materials.
"The Why Wound Care portal for physical therapy students provides a much-needed resource in physical therapy education, as many schools don't have the luxury of having a full-time faculty member with wound care expertise," said Joseph McCulloch, PT, PhD, CWS, FAPTA, and retired Dean of the School of Allied Health Professions at LSU Health Sciences Center in Shreveport, Louisiana, and co-chair, WWC physical therapy student advisory board. "Now students have access to the numerous physical therapy wound care practitioners who share knowledge in their areas of expertise."
"This is an incredible value added at no cost for students, practicing physical therapists, and physical therapy programs looking to augment existing curricula," added Heather Hettrick, PT, PhD, CWS, CLT-LANA, CLWT, and Professor in the Physical Therapy Program at Nova Southeastern University in Fort Lauderdale, Florida, and co-chair, WWC physical therapy student advisory board. "The WWC initiative provides bite-size learning opportunities on numerous topics from leading experts in the field, with an emphasis on the role and value of physical therapists in wound management."
To learn more about Why Wound Care?, or to take advantage of these free resources, please visit whywoundcare.com.
About HMP Global
HMP Global is the force behind Healthcare Made Practical—and is a multichannel leader in healthcare events and education, with a mission to improve patient care. The company produces accredited medical education events and clinically relevant, evidence-based content for the global healthcare community across a range of therapeutic areas. Its brands include Consultant360, the year-round, award-winning platform relied upon by primary care providers and other specialists; Psych Congress, the largest independent mental health meeting in the U.S.; EMS World Expo, North America's largest EMT and paramedic event; and the Symposium on Advanced Wound Care (SAWC), the largest wound care meeting in the world. For more information, visit hmpglobal.com.