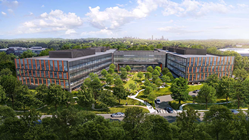 "We selected Gilbane for their extensive expertise in planning and building laboratory facilities." - Brad Cardoso, AIA, principal architect at Hobbs Brook Management.
WALTHAM, Mass. (PRWEB) August 06, 2019
Hobbs Brook Management LLC, a commercial property management and development firm specializing in leasing, construction and development of Class A office space, announced today it has selected Gilbane Building Company to provide preconstruction and construction management services for its new 500,000+ SF office and lab development at 225 Wyman Street in the Hobbs Brook Office Park in Waltham, Mass. Construction will begin in August 2019 and be completed in 2021.
The new five-story building is being designed by Gensler to meet LEED Silver certification and be lab-capable to satisfy both laboratory/research and development and traditional office needs. The site's landscape plan, designed by OJB Landscape Architecture, will include both paved and permeable walkways, seating areas, walking trails, along with landscaped courtyards.. The project will also include a new parking garage within the Hobbs Brook Office Park to accommodate parking needs for the complex.
"We selected Gilbane for their extensive expertise in planning and building laboratory facilities," said Brad Cardoso, AIA, principal architect at Hobbs Brook Management. "Gilbane has previously worked with Gensler on projects of this size and they are well-positioned for a successful project."
JLL is the exclusive leasing agent for 225 Wyman Street. For more information, please visit http://www.225wyman.com.
About Hobbs Brook Management LLC
Because the most valuable thing they develop is a relationship, Hobbs Brook Management focuses its efforts on satisfying the individual needs of customers that lease within their parks. A service-oriented provider of Class A business solutions to companies large and small, Hobbs Brook builds sustainably, maintains an on-site facilities management staff, and develops or renovates projects for energy efficiency, LEED certification, and the preservation of the local environment. With portfolios in Massachusetts, Rhode Island, Georgia and Illinois, Hobbs Brook offers competitive amenities, on-site catering and dining facilities, fitness centers, and a full-service conference center available to tenants and the public. Hobbs Brook enjoys a steady occupancy rate in the 90th percentile, and holds firm to the belief that tenants should feel secure, well-balanced and prevalent at work. For leasing options or additional information, please visit http://www.hobbsbrook.com.
About Gilbane Building Company
Gilbane provides a full slate of construction and facilities-related services – from pre-construction planning and integrated consulting capabilities to comprehensive construction management, general contracting, design-build and facility management services – for clients across various markets. Founded in 1873 and still a privately held, family-owned company, Gilbane has 46 office locations worldwide. Gilbane has served as a leading construction manager in Massachusetts since 1946 serving private and public clients throughout the Commonwealth. Clients and projects include Boston Public Schools, Boston Red Sox, UMass Boston, Wentworth Institute of Technology, Reebok's and PTC's Global Headquarters in the Seaport District, State Street Bank, Google, Northeastern University, and Alexandria Real Estate. For more information, visit Gilbane's website at http://www.gilbaneco.com/boston.