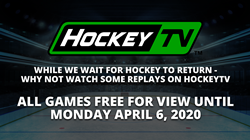 "During these unprecedented times, we thought we would do our part to give all the quarantined couch potato hockey fans something else to do", said HockeyTech CEO Stu Siegel. "While we have no live games to broadcast, we do have over 100,000 games in our library to view on demand."
KITCHENER, Ontario (PRWEB) March 23, 2020
With the HockeyTV Free-for-All, all fans can watch unlimited hockey for free through April 6th.
"During these unprecedented times, we thought we would do our part to give all the quarantined couch potato hockey fans something else to do", said HockeyTech CEO Stu Siegel. "While we have no live games to broadcast, we do have over 100,000 games in our library to view on demand."
Fans can visit HockeyTV.com to search over 100,000 archived games. HockeyTV will also continue to select key replay games on the home page that we feel may be of interest to all hockey fans. All games can be watched at HockeyTV.com, through the HockeyTV iOS and Android apps, or through popular TV streaming devices, including Roku, AppleTV, and Amazon Fire Stick.
Games on HockeyTV primarily include elite amateur leagues in the USA and Canada, where future NHL players develop. With the NHL draft scheduled for June 26th, this is an ideal opportunity to view the top prospects in action this past season.
About HockeyTV
HockeyTV (https://HockeyTV.com) is a streaming service that broadcasts hockey games live and on demand, with a library of over 100,000 games. Fans can purchase subscription packages on a monthly or yearly basis to get unlimited access to HockeyTV's extensive content. HockeyTV is a service of HockeyTech (https://HockeyTech.com)