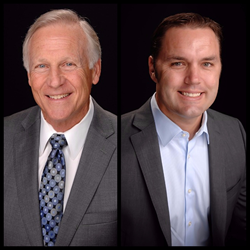 Ventura, CA (PRWEB) August 28, 2017
Hoffman & Associates recently gave a charitable donation to a "Night of Stars," the Ventura County Medical Resource Foundation's 24th Annual David Fainer, MD and Leo Tauber, MD Community Health Care Awards. Proceeds from the event will provide dental and vision care services to vulnerable, low-income children and seniors, as well as survivorship wellness retreats for women undergoing cancer treatment at local hospitals.
"Charitable giving is critically important for our community. Hoffman & Associates is passionate about supporting these local causes and the causes of our clients," said Ross Hoffman, president and CEO of Hoffman & Associates.
The Ventura County Medical Resource Foundation helps make health care available to residents who are unable to obtain services on their own. Its mission is to improve, in partnership with others, access to needed health care for the most vulnerable and underserved families in the county.
Hoffman & Associates is also a financial contributor to the State Street Ballet in Santa Barbara, and Hoffman and his wife will be attending the ballet's upcoming benefit, "A Night to Remember," on Sunday, September 24, at the Four Seasons Biltmore. The gala event will also honor Brian and Judy Robertson, longtime patrons and supporters of the State Street Ballet. In the past, Brian, owner of Robertson Travel in Santa Barbara, has donated cruises for the live auction. Judy, a former dancer, is passionate about children learning to dance.
Ardent community supporters, Hoffman & Associates also contributes to the Livingston Memorial Visiting Nurse Association, which provides home care services for the frail, elderly, sick and disabled, and City Impact, a multicultural community organization formed in 1995 to meet the growing needs of at-risk/high-risk children, youth and low-income families throughout Ventura County. Hoffman & Associates also supports CAREGIVERS: Volunteers Assisting the Elderly and Boys and Girls Club of Ventura.
About Hoffman & Associates
Hoffman & Associates is comprised of a team of wealth managers. Hoffman & Associates specializes in financial and estate advising, retirement planning, business exit planning, investing and insurance. For more information, please call (805) 648-5300, or visit http://www.hoffmanwm.com. The office is located at 121 N. Fir Street, Suite D, Ventura, CA 93001. Securities offered through Fortune Financial Services, Inc. Member FINRA/SIPC. Hoffman Wealth Management and Fortune Financial Services, Inc. are separate entities.
About the NALA™
The NALA offers small and medium-sized businesses effective ways to reach customers through new media. As a single-agency source, the NALA helps businesses flourish in their local community. The NALA's mission is to promote a business' relevant and newsworthy events and achievements, both online and through traditional media. The information and content in this article are not in conjunction with the views of the NALA. For media inquiries, please call 805.650.6121, ext. 361.