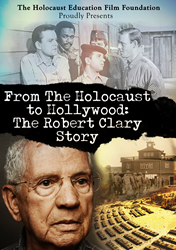 "A lot of people did get by if they had some talent. And Robert's talent was to entertain." – Brian Gari, Composer/Lyricist
CHARLESTON, S.C. (PRWEB) February 25, 2021
Destiny really can be cruel to be kind. French-American Holocaust survivor and Hollywood star Robert Clary absolutely knew his destiny at an early age. He would be an entertainer. He did not know that same destiny would lead him through the Nazi terror and daily death surrounding him for two years in forced labor camps followed by three more in concentration camps during WWII.
"From the Holocaust to Hollywood – The Robert Clary Story" (Available Nationally March 30, 2021 – DVD & Digital via Dreamscape Media) is the third documentary film production from the Holocaust Education Film Foundation (HEFF), an organization founded to assure that the painful legacy of the Holocaust is never forgotten by keeping impactful stories alive through the medium of film.
The new documentary features an original interview with Mr. Clary who personally shares his terrifying story alongside his nephew / songwriter (and actor-activist Eddie Cantor's grandson!) Brian Gari, who adds colorful details further revealing Mr. Clary's fun spirit, good humor and gentle humanity. Filmmaker, and HEFF Founder, Ron Small weaves archival photographs and video courtesy of the private collection of Robert Clary, and The United States Holocaust Memorial Museum. The first half of the presentation chronicles the brutality of his Nazi captivity, with the second half focusing on his blossoming entertainment career.
Robert Clary was born in 1926 in Paris, France, the youngest of 14 children. His adoring parents supported his artistic desires, engaging Robert in art and music education. At the age of 12, he began a career singing professionally on the radio. He lived a somewhat charmed life… until 1942 when he and his family were captured by the Nazis. That began an odyssey of horror that would forever haunt him.
After being moved from a work camp to Buchenwald concentration camp, Mr. Clary says, "Destiny was on my side. … I met a Czechoslovakian who was the head of knowing who's-gonna-leave-and-who's-gonna-stay at the camp, and who just took a liking to me because he was a bass player. They had an orchestra and he knew I was a singer. So, I was not deported. He instead hid me in his barrack because he was a big shot there. They had a theater in Buchenwald, and the guards would be sitting in the first row. I would sing in Yiddish: "Ivri Anochi, I'm Proud to Be A Jew." His dry sarcasm did not get him killed.
Liberated on April 11, 1945, Robert Clary overcame extreme obstacles to become a beloved entertainer on television and radio, in the movies and on Broadway, but perhaps he is best known as the iconic Corporal Louis LeBeau on "Hogan's Heroes" which is currently back in syndication. Clary is currently living in Beverly Hills and has retired from entertainment to create original art while continuing to share his survivor experience and fulfill his inspiring destiny. He states "that his greatest accomplishment is lecturing on the Holocaust for over 20 years, offering his tale of resiliency and triumph over tragedy, impacting audiences throughout the world."
About The Holocaust Education Film Foundation
Established in 2018, the Holocaust Education Film Foundation was started to build an international, interactive online community one Holocaust Survivor story at a time. Through full-length documentaries, distributed globally through numerous platforms, the online site and educational programs, the 501c3 foundation seeks to ensure that we never forget. More on LinkedIn.
# # #
"From Holocaust to Hollywood – The Robert Clary Story"
Available March 30, 2021 – DVD & Digital via Dreamscape Media – Trailer Link Below
Public Performance / Exhibition, Broadcast and Digital Site Licenses are available through Soundview Media Partners.
Running Time: 49 minutes
Genre: Documentary
Language: English
Aspect Radio: 16 x 9
Audio: Stereo
Other Releases from the Holocaust Education Film Foundation:
"Surviving Birkenau – The Dr. Susan Spatz Story"
"To Auschwitz and Back – The Joe Engel Story"
Coming to Public TV April 8, 2021 – National Holocaust Remembrance Day – as a presentation of
WLRN Public Television – South Florida's Storyteller and distributed by American Public Television:
"I Danced for the Angel of Death – The Dr. Edith Eva Eger Story"
Official Trailer for "From the Holocaust to Hollywood – The Robert Clary Story"
Full screening access is available upon request.