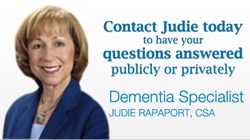 It's not the load that breaks you down; it's the way you carry it. - Lena Horne
Jupiter, Florida (PRWEB) November 16, 2013
For many people, what may have once been their favorite time of year quickly becomes a dreaded event when weighed down with the added responsibility of caring for a loved one.
So what do caregivers experience during the holiday season? Well one study suggests that 4 in 10 caregivers need extra support during the holidays. 45% of caregivers feel their own stress about holiday socializing. The extra burden to care for the needs of loved ones can sometimes be overwhelming. Lena Horne once said, "It's not the load that breaks you down; it's the way you carry it."
Judie Rappaport, a leading Geriatric Care Expert put together the following tips to help lighten the load many have during the holiday season:
#6 - Simplify. Whether planning a Thanksgiving dinner or a Christmas brunch, keep in mind that time is no doubt in short supply this year. Do not put undue pressure on a limited timeline to cook a five-course meal. It's ok to start a new holiday tradition that doesn't require week-long preparations. Choosing to order in or encouraging guests to bring a dish for a potluck meal is guaranteed to make the event more enjoyable. Also, consider using pretty paper plates and plastic silverware to remove an extra step from the clean-up process.
#5 – Think Ahead. If the plan is to cook a big meal for family and friends this holiday season, think about lead times needed for all the preparation and setup, and consider freezing some dishes ahead of time. This will help reduce stress and allow you to enjoy your holiday on the day of the event. Keep in mind that elderly loved ones might need a quiet place to escape the chaos or even take a nap. Plan to set aside a private space or room where they can find comfort and relaxation.
#4 – Ask For Help. There's no reason to bear the burden of planning a holiday event AND taking care of loved ones all by oneself. The great part about this time of year is that family and friends will no doubt be available and assessable – just ask for help. Communicate with them early on to make sure that everyone is prepared and there are no surprises.
#3 - Create a Health Checklist. If loved ones do not live with you, ask a family member for help coordinating their medications, diet restrictions and health needs in order to keep them on their regular routine during their stay for the holidays. NOTE: Take notice of any decline in their health, and assess if current living arrangements should be addressed. This may be a good time to discuss this further with them.
#2 - Set Aside Time To Relax. Whether it's scheduling 30 minutes of quiet time to read a book, take a hot bath or exercising at the gym, "down-time" is still needed even though caring for a loved one for the holidays. It's easy to feel overwhelmed when surrounded by lots of people for an extended period of time, so scheduling in some "me" time will keep things balanced and will certainly best serve the needs of all during the event.
#1 – Be An Advocate. The dictionary definition of advocate is: Somebody Giving Support. Being a caregiver is not easy, but it is necessary and in most cases appreciated by those who receive the support. This is the most important thing to remember out of all those listed above.
Regardless of all the little things that add up to major stress for the holidays, remember that time spent with aging loved ones is precious and sometimes limited. Take time to recognize that the moments spent with them are a gift and in this fast-paced world it's a blessing to be able to gather family and friends around for even a day or two.
After all, that's what the holidays are all about, right?
Judie Rappaport has penned a guide to services and benefits you can expect from retaining a geriatric care manager. The PDF guide can be downloaded by clicking the link attached to this press release.
Judie Rappaport is the President of Preferred Lifestyle Services which provides geriatric care management services specializing in care for families with Alzheimer's and related dementias. She writes a blog as well as a question and answer forum for Alzheimer's disease and related dementias. She is the co-author of the well-received books, Eldercare 911: The Caregivers Complete Handbook for Making Decisions and The Eldercare 911 Question and Answer Book. Judie also writes, Eldercare 911, a weekly column answering readers' caregiving questions. The successful column is in it's 7th year in Florida's Scripps Treasure Coast Newspapers.
For more information on eldercare specializing in the care of those with Alzheimer's disease and related dementias, contact Judie Rappaport at JR(at)prefsvcs(dot)com or phone 561-277-9544 Judie's blogs and articles can be found at: http://www.dementiaexpert.com and http://www.preferredlifestyleservices.com.