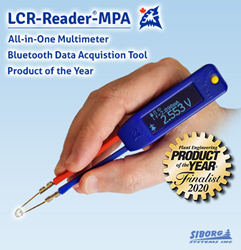 Siborg Systems Inc. is offering a holiday sales pricing for LCR-Reader and Smart Tweezers Digital Multimeters from November 27th until November 30-th 2020.
WATERLOO, Ontario (PRWEB) November 26, 2020
To start the holiday season, Siborg Systems Inc. is holding a holiday sale on their digital multimeters, including the new LCR-Reader-MPA and MPA Bluetooth models. The sale begins Black Friday, on November 27, 2020 and goes until November 30, 2020.
Since 2004, Siborg has been offering digital multimeters, beginning with Smart Tweezers. In 2014, Siborg launched their own line of multimeters,LCR-Reader, which quickly became a popular device among hobbyists and professionals alike. Siborg has since expanded onto the line, with LCR-Reader-MP, LCR-Reader Colibri, LCR-Reader-MPA and LCR-Reader-MPA BT.
The design is simple and allows users to test without any set-up; just hold a component between the tweezers' gold-plated tips and the device will do all the work. The multimeter will automatically determine the type of component and best test frequency to use before testing with high accuracy. All measurement values, including any main and secondary values are instantly available on the display.
The newest line, the LCR-Reader-MPA models offer uses a 0.1% basic accuracy and wide range of test features and functions. The main features of the device include a 100 kHz test frequency, Super Cap testing and oscilloscope mode. The oscilloscope mode has not been included on a device since the start of Smart Tweezers and is best used with LCR-Reader Kelvin Probe Connector as a probe station.
Some features on MPA include:

Automatic and manual LCR, ESR, LED/Diode measurements
0.1% basic accuracy
Automatic and manual Test Frequencies, from 100 Hz - 100 kHz
Signal Generator
Large and Super Large Capacitance test
Easy open/short calibration and offset removal
Oscilloscope
The MPA Bluetooth allows users to remotely record measurements in real-time, with the main feature being an automatic pass/fail component sorting feature. When used with the LCR-MPA-BT Data Logger program, users can set component profiles with desired values. When testing components, the program will compare the desired values with the measured values and automatically grant a pass or fail; marking the value green or red in the 'Test' column.
The device has reached the finals for Plant Engineering's Product of the Year 2020 for Maintenance Tools and Equipment. Voting opens on November 12th and the winners will be announced in January 2021.
Plant Engineering is an online and print magazine about products for production and manufacturing. Subscribers can vote on the LCR-Reader-MPA page by clicking the trophy on the right hand.
Other products included in the sale:

Smart Tweezers ST-5S LCR/ESR meter with 0.2% basic accuracy
Kelvin Probe Connector with 5 attachments that is used as a low-frequency probe station
LCR-Reader with 0.5% basic accuracy, and LCR/ESR meter
Coil Ring Test for LCR-Reader-MPA for short turn detection
Siborg's sale prices will be available on the LCR-Reader Store and Amazon sales channels in USA, Canada and Europe. The sale goes from November 27, until November 30, 2020.
The diveces are also available from:
China
AI-ROX Polytronics (Shenzhen) Co., Ltd Tongtai Times Square, Fuhai Street, Baoan District, Shenzhen, 518100
India
Advance Tech Services
709-710, DT-ITL Towers, B-8, Netaji Subhash Place, Pitampura, New Delhi, 110034
Phone:+91-11-47002024
Fax:+91-11-47002029