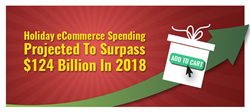 "The holiday season provides a strong opportunity to meet revenue goals and begin the new year with momentum," says DesignRush Founder and Executive Director Gabriel Shaoolian.
NEW YORK (PRWEB) November 08, 2018
This year, United States holiday spending is expected to see a 14.8% year-over-year increase, rising overall revenue to $124.1 billion.
This sizable jump in seasonal eCommerce spending, first reported by Adobe Digital Insights, correlates directly with the trending uptick in overall eCommerce spending. In 2018, the United States will spend over $504 billion in eCommerce sales.
Thus, online retail businesses should invest in online marketing strategies that will help them capture consumers throughout the holiday season and transform them into returning customers.
DesignRush.com, an agency directory and ranking site, examined how retail brands can optimize their websites to cash in on holiday shopping and boost their bottom lines.
3 Tips To Increase Online eCommerce Sales In 2018
1. Prioritize Cyber Monday
Studies show that 88% of 18 to 24-year-old shoppers and 74% of 35 to 54-year old consumers planned to shop on Cyber Monday in 2017. In addition, the most money spent online during the holiday season occurs on Cyber Monday. Although consumers do spend money online on Black Friday, if you need to prioritize, focus on the Monday after Thanksgiving instead.
2. Optimize For Mobile
Mobile eCommerce sales are on the rise – and that includes throughout the holiday season. Last year, Salesforce reported that mobile devices provided 64% of eCommerce website visits between Black Friday and Cyber Monday alone. Ensure your website loads quickly and is easy to navigate on all devices.
3. Invest In A Global Market
Black Friday and Cyber Monday have expanded far beyond the United States. Several countries around the world – including the United Kingdom, Germany and South Africa – are consistently increasing their holiday eCommerce sales, particularly on Black Friday and Cyber Monday. Build a web design that will function well around the world and maintain reliable cybersecurity.
"The holiday season provides a strong opportunity to meet revenue goals and begin the new year with momentum," says DesignRush Founder and Executive Director Gabriel Shaoolian. "Brands should take the time to create a customer-centric experience in order to attract customers and foster strong conversion rates."
The best way to prepare your professional web design for a robust holiday shopping season is to partner with a reliable eCommerce website design agency. Web development firms that specialize in eCommerce can create (or improve) a well-branded website that showcases promotions, ensures users can find products, and enjoy a simple checkout that maximizes conversions.
DesignRush rounded up the top eCommerce web companies who can design successful platforms. These include:
NYC-based Lounge Lizard builds custom websites, mobile apps, brand identities and marketing campaigns that achieve specific business growth goals.
2. Avex Designs
Avex Designs creates highly-functional eCommerce web designs that integrate seamlessly with Shopify, a frequently used eCommerce platform.
3. Crafted
Crafted focuses on creating functional yet beautiful websites that tell a brand's story and complement marketing campaigns well.
Lead to Conversion builds custom responsive websites optimized for SEO, strong conversion rates, and online marketing campaigns.
Dotcom Weavers designs professional sites for B2B and B2B clients aimed at achieving personalized goals and long-term growth.
In addition, brands can discover a detailed list of the best eCommerce website development companies on DesignRush.
On DesignRush, businesses can compare eCommerce website design agencies by clients, cost, portfolio, expertise, leadership, reviews and more. This comparison feature enables brands to find the partner that suits their needs.
About DesignRush: DesignRush.com is a digital destination to inspire creativity and the discovery of marketing, design and technology trends. The company was founded by Gabriel Shaoolian, an experienced entrepreneur and digital marketing expert.
DesignRush features the top agencies around the world, including the best Digital Agencies, Logo Design & Branding Agencies, Website Design Companies & E-Commerce Website Design & Development Companies.
In addition to listing the best professional agencies, DesignRush's Best Designs section showcases the best designs in web, logo, print, packaging, mobile apps and video. Users can filter best designs by industry. DesignRush also features comprehensive articles in the Trends & Insights section.