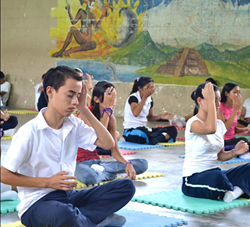 I see many kids around me falling into gang networks. I learned that if I don't give up in my choice for peace, then people around me don't give up and also the people around them. That's how we can improve our community.
NEW YORK (PRWEB) September 04, 2018
On September 12, 2018, President Salvador Sánchez Cerén will officially recognize Mr. Ilchi Lee in El Salvador for his Brain Education program that has significantly reduced physically and mentally-related absenteeism for students and teachers in the country's public schools, which have long suffered from gang and socio-economic violence. This award highlights the successful implementation of a holistic education method founded by Mr. Ilchi Lee that has created a healthy public-school culture for both students and teachers in Districto Italia, a neighborhood with one of the highest levels of violence and crime, situated just outside of the capital of San Salvador. Brain Education was implemented in a public school there by IBREA Foundation as part of a pilot project requested by the Ambassador of El Salvador to the United Nations.
"IBREA's program gave me tools to relieve my stress, my anger, my resentment," said Laura Calderon, one of the Salvadoran students in IBREA Foundation's Brain Education program. "I see many kids around me falling into gang networks. I learned that if I don't give up in my choice for peace, then people around me don't give up and also the people around them. That's how we can improve our community."
What is Brain Education?
Through Brain Education, now implemented in 25% of all Salvadoran public schools, students and teachers have seen compelling improvements in measures of peer relationships, anxiety, trauma, stress and self-management, and absenteeism. Brain Education is a five-step method, created by mind-body expert and trainer Mr. Ilchi Lee, which enables individuals to activate their brain power to create self-sustaining health, happiness, and peace. It is practiced throughout the U.S., South Korea, Japan, China, the EU, New Zealand, and El Salvador and is the foundation of Mr. Lee's teachings.
IBREA Foundation's Project in El Salvador
IBREA Foundation, a 501(c)3 NGO with consultative status in the United Nations, began its Brain Education program in El Salvador in 2011. It started its pilot project with just one school in Districto Italia. IBREA Foundation was founded by Mr. Ilchi Lee, and its mission in El Salvador was to provide a sustainable mind-body practice to students and teachers to help them deal with their challenging environment in healthy ways. Once Brain Education had been successfully introduced, the mission expanded to supporting students and teachers in sharing the Brain Education practice with their community to bring greater peace and well-being to Districto Italia.
To date, IBREA Foundation has trained over 4,000 people and has certified 1,764 Brain Education trainers in El Salvador — these trainers continue to teach this method to others in the local community.
Salvadoran President Recognizes IBREA Foundation and Ilchi Lee
President Salvador Sánchez Cerén of El Salvador will give the National Award "Jose Simeon Cañas" to IBREA Foundation and its president and founder, Mr. Ilchi Lee, for their work in effectively changing public school culture in a neighborhood that previously failed to show any meaningful improvement with other efforts. The award was made possible due to the outpouring of support and gratitude from many teachers who witnessed their school's security and students' lives change. The Salvadoran President will award Mr. Ilchi Lee for his work in creating cultures of peace inside the public schools. The award ceremony will take place on September 12, 2018 at 12 p.m. at the Ministry of Foreign Affairs in San Salvador.
Brain Education's Effects in the U.S.
At home in the U.S., Brain Education has been introduced and implemented in one of the country's lowest-performing public schools in NYC. This local pilot project has shown similar results to those in El Salvador—of students' improved focus and behavior along with teachers' reduced stress and overall better well-being. The project in New York City has brought a D-level school up to A-level over the span of just one year. Brain Education proves to be an effective holistic education method for those struggling with physical, emotional and mental conditions related to stress, depression, anxiety, fear, and low self-confidence, which are unfortunately quite common among students, teachers, and administrators in our public school systems.
Visit IBREA Foundation's website for more info about IBREA: ibreafoundation.org