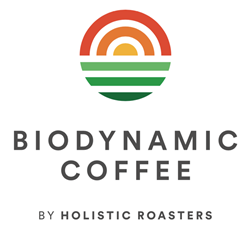 People want to know where their food and beverages come from as well as how they are grown and processed
BERKELEY, Calif. (PRWEB) October 24, 2018
Holistic Roasters, a roaster and distributor of specialty coffees from family-run Biodynamic farms and cooperatives, is pleased to announce that it has earned Demeter Biodynamic Certification for all of its operations, including the sourcing, shipping, warehousing, processing and packaging of green coffee and instant beverages.
As part of the certification process, Holistic Roasters implemented an end-to-end QR code system to track its coffees from the farm to the consumer. According to Dominique Jacques, co-founder of Holistic Roasters, "Transparency and traceability are extremely important because people want to know where their food and beverages come from as well as how they are grown and processed. That's why every package of our Biodynamic Coffee has a QR code. It links to information about the country of origin, the harvest year & season as well as roast information, varietals and certificates. It all works to demonstrate that people are getting contaminant-free coffee that is amongst the cleanest and healthiest coffees available."
One of the aims of Biodynamic farming is to improve the natural environment by putting more into the land than is taken out. It's a self-contained and self-sustaining approach to farming that goes beyond sustainability – it's regenerative to the earth's ecosystems and enhances its biodiversity. In keeping with this goal, Holistic Roasters uses 100% compostable packaging. Soil depletion is a massive global issue and adding carbon to the soil through composting is important for the sequestration of carbon as well as the synthesis of humus.
Holistic Roasters began as a fund-raising project for Ecole Rudolf Steiner de Montréal, a Waldorf School in Québec, Canada in 2016. With the growing popularity of Biodynamic foods, the company now delivers coffee throughout North America. According to Gregory Kalinin, president of Holistic Roasters, "Part of our long-term commitment is to continue our support for Waldorf education. In particular, we want to remain involved with fundraising projects that help educate a generation of ethical leaders with strong civic competencies who can help guide us to a better future for all."
About Demeter Biodynamic® Certification
Demeter International is the leading organization responsible for certifying Biodynamic farms, ingredients and products around the world, and is the oldest ecological certification organization in the world. Demeter Association, Inc., the only Biodynamic certifier in the USA, was founded in 1985 as a not for profit. Demeter's mission is to enable people to farm successfully in accordance with Biodynamic practices and principles, healing the planet through regenerative agriculture.
About Holistic Roasters Inc.
Holistic Roasters Inc. is a roaster and distributor of direct-trade, specialty coffees from family-run Biodynamic farms and cooperatives. All of Holistic Roasters' Biodynamic Coffee is grown without the use of herbicides, fungicides, pesticides or chemical fertilizers and is amongst the cleanest and healthiest coffees available. Our motto is "Great coffee comes from healthy soil."
For more information, please visit our website at http://biodynamic.coffee