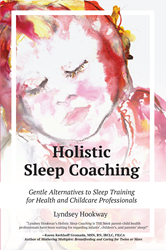 "Lyndsey Hookway's Holistic Sleep Coaching is the book parent-child health professionals have been waiting for regarding infants', children's, and parents' sleep!"
AMARILLO, Texas (PRWEB) September 20, 2018
New book from Praeclarus Press, Holistic Sleep Coaching, teaches parents how to optimize infants' sleep. Release date: 9-25-18
"Lyndsey Hookway's Holistic Sleep Coaching is the book parent-child health professionals have been waiting for regarding infants', children's, and parents' sleep! The comprehensive content is comprised of an exhaustive review of the sleep literature, but it is written in a reader-friendly discussion format. (References are cited in text with the complete reference list in APA alphabetical style at the end.) I appreciate Hookway's evidence-based approach with its emphasis on human sleep biology. Yet her words constantly model sensitivity and empathy for both babies/children and their parents who live in our current cultural landscape of isolated nuclear families dependent on two incomes and often miles from physical support."
-Karen Kerkhoff Gromada, MSN, RN, IBCLC, FILCA Author: Mothering Multiples: Breastfeeding and Caring for Twins or More
Holistic Sleep Coaching, by pediatric nurse Lyndsey Hookway, goes over the ways in which a child's needed sleep is reduced by technology or simply, lack of knowledge, and how to overcome them and get your child the sleep they needed. Discussing the science behind sleep and what reduces it, Holistic Sleep Coaching offers easy-to-follow solutions and methods to get your child the sleep they need.
Infants are probably sleeping no differently now than they were 1000 years ago. However, parenting has changed. We are dealing with the paradox of parenting information overload, coupled with time-poverty. Parents know more than ever about the importance of love, attachment and security to young children. They may know about good nutrition, stress management, toxins, skin to skin, breastfeeding, one-to-one time, emotion coaching and organic food. Parents are bombarded with appliances that are supposed to make their lives easier, and yet end up confused about what is really necessary. At the same time, modern parents are leading busy, expensive lives, and have jobs that they love or need. And within all this, their babies are still sleeping the same as they always have.
Some sleep experts are quick to suggest quick fixes to lengthen infant sleep, but there is growing concern that techniques such as extinction may have negative outcomes for infants as well as being stressful for parents. Holistic sleep coaching is a multi-dimensional approach that looks at the big picture and recognises that babies' needs are not just physical but psychological, emotional and relational. Holistic Sleep Coaching provides an evidence-based overview of how to optimise sleep without leaving babies and children to cry for health and child care professionals.
Lyndsey Hookway is a Paediatric Nurse, Health Visitor, International Board Certified Lactation Consultant, Holistic Sleep Coach, Birth Trauma Recovery Practitioner and Independent Lecturer, with almost 20 years experience working with infants, children and families in hospitals and the community, as well as extensive experience teaching health and child care professionals.
Praeclarus Press is a small press founded by health psychologist, Dr. Kathleen Kendall-Tackett, focusing on women's health. The mission of Praeclarus Press is to publish books that change people's lives. Praeclarus Press is based in Amarillo, Texas.
Join our mailing list for the latest updates.
Holistic Sleep Coaching is available at Praeclarus Press.com or on Amazon.com.